Turtle style
By: Joshua Glenn
February 27, 2009
The ironist stands above herself and the universe and looks quizzically at the scene. She's a turtle bravely sticking her neck out.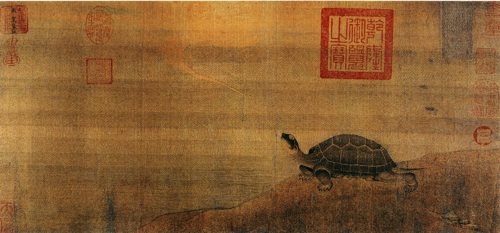 Turtle by Zhan Ziqian
Against the charge that the ironist "has a purely aesthetic attitude towards life," Randolph Bourne insists (in "The Life of Irony," a 1913 Atlantic Monthly essay) that
The ironist is ironical not because he does not care, but because he cares too much…. The kind of aesthetic irony that Pater and Omar display is a paralyzed, half-seeing, half-caring reflection on life — a tame, domesticated irony with its wings cut, an irony that furnishes a justification and a command to inaction. It is the result not of exquisitely refined feelings, but of social anaesthesia.
We've been encouraged to think of irony as a defensive sensibility. In fact, the ironist is MORE, not less, vulnerable than the rest of us.
***
Also some notes on absurdity, from Thomas Nagel's 1971 paper on "The Absurd" in The Journal of Philosophy.
Although when we are trying to express the absurdity of our lives, we tend to use images of space ("we are tiny specks in the infinite vastness of the universe") and time ("on a geological or cosmic time scale, our own lives are mere instants"), Nagel points out that these facts are not what makes life [seem] absurd. We employ these images because they are metaphors for the backwards step (itself a metaphor) which permits us to regard ourselves from without (also a metaphor) and "to find the particular form of our lives curious and slightly surprising."
Rather, it is the awareness that we take our lives seriously despite the fact that everything about which we are serious is open to doubt, which leads to the feeling that life as a whole is absurd. When we're not reflective, we take our lives seriously; when we are reflective — skeptical, ironical, which is to say, when we become aware, by taking the larger view, that the decisions we make are based on decisions that feel justified, but never can be — then our seriousness appears gratuitous, ridiculous.
Angel sounds like a structuralist when he notes that
We step back to find that the whole system of justification and criticism, which controls our choices and supports our claims to rationality, rests on responses and habits that we never question, that we should not know how to defend without circularity, and to which we shall continue to adhere even after they are called into question.
In taking that backward step, do we gain an understanding of what is truly important? No, we merely observe the ordinary standards that guide our lives in an objective fashion — and recognize that no absolute standards exist. "We notice that certain types of evidence convince us, that we are content to allow justifications of belief to come to an end at certain points, that we feel we know many things even without knowing or having grounds for believing the denial of others which if true, would make what we claim to know false." Our system of beliefs, evidence, and justification take the world largely for granted. Having perceived this, thanks to philosophical skepticism, "we return to our familiar convictions with a certain irony and resignation."
Here Nagel stumbles, a bit. After we have put in question the seriousness with which we take our lives and human life in general and have looked at ourselves without presuppositions, he writes, we return to our lives "but our seriousness is laced with irony." I disagree. Irony is a mode of seriousness. So an ironic perspective doesn't affect the seriousness with which we conduct our lives — rather, it affects the earnestness with which we conduct our lives.
***
READ MORE essays by Joshua Glenn, originally published in: THE BAFFLER | BOSTON GLOBE IDEAS | BRAINIAC | CABINET | FEED | HERMENAUT | HILOBROW | HILOBROW: GENERATIONS | HILOBROW: RADIUM AGE SCIENCE FICTION | HILOBROW: SHOCKING BLOCKING | THE IDLER | IO9 | N+1 | NEW YORK TIMES BOOK REVIEW | SEMIONAUT | SLATE
Joshua Glenn's books include UNBORED: THE ESSENTIAL FIELD GUIDE TO SERIOUS FUN (with Elizabeth Foy Larsen); and SIGNIFICANT OBJECTS: 100 EXTRAORDINARY STORIES ABOUT ORDINARY THINGS (with Rob Walker).