THIS: Catfood at Tiffany's
By: Adam McGovern
May 9, 2016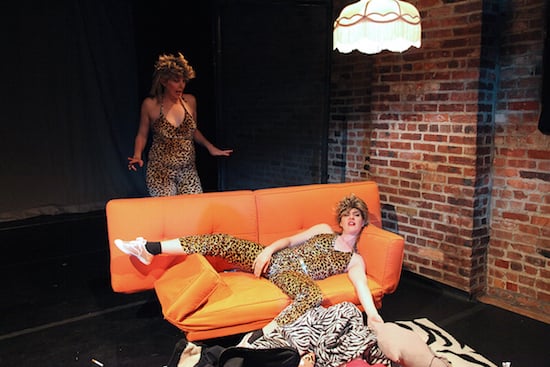 Transformation is our fantasy and our phobia, from the Ugly Duckling to the Wolf Man. We wonder if a change of behavior can transform us for the better; we worry if a change of scene will transform us for the worse. The lead character of STRAYS (running through May 14, 2016 at Brooklyn indie theatre The Brick) spouts recovery-isms while resisting the pull of the rural origins she fled for the big city. In the case of cooling-mess Terry, there may not be a lot of data to recover, but she's trying to overcome her alcoholic stripper past with a job as a suicide-prevention hotline operator and a calling as a recoverer of lost pets. Well, pet, singular, anyway — one cat at a time, am I right?
As Terry, playwright Kim, it's too good, KATZberg is knowingly disastrous and epicureanly hilarious, an unintentional jester of classic and pioneering intensity. I wasn't sure if the play was set in the 1980s, but she definitely is, spending most of the show in leopard-print jumpsuit and Duran-hair. Nora Woolley (with whom Katzberg collaborated on the scenario, in addition to director Raquel Cion) plays a doppelganger for Terry who mirrors her moves and serves as the double-vision she needs to debate life decisions with, sometimes contending and sometimes converging in purpose like a kind of Schrödinger's Cast, you're welcome.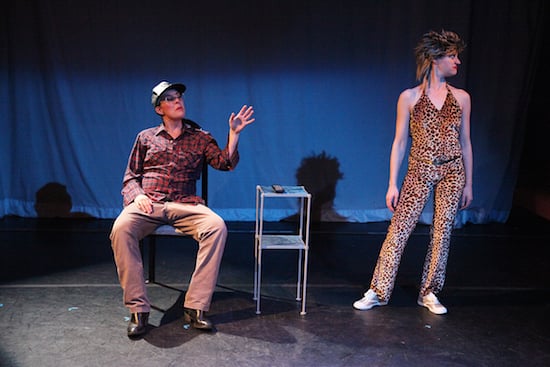 Woolley plays a range of other roles, most vividly Terry's malevolent backwoods dad, who we think may be a local meth-lord but is in fact cooking up something much more nefarious. Killer hicks are a staple of horror and sci-fi just like "wayward girls" are a mainstay of melodrama and romance, and Terry's wobbling path veers into detective noir and dystopian feminist fiction as it leans forward.
With ingeniously drab and deadpan Warholian filmed interludes that run throughout the play to advance the story and vary the dramatis personae even further (including several well-drawn extra caricatures from Katzberg), and the menace of Terry's, um, Breaking Dad playing out in live action, it feels like we are watching a race between two incisively observed canons of pop stereotype; the desultory semi-improv tone of '80s avant-grindhouse like Liquid Sky onscreen, and the urban southern gothic of the Capote/Tennessee Williams school onstage.
The highbrow-B-movie allusion is advised, since the plotlines of missing pets and predatory relatives and ambivalent life-purposes finally knot together in a monster-movie/femsploitation way you need to see for yourself.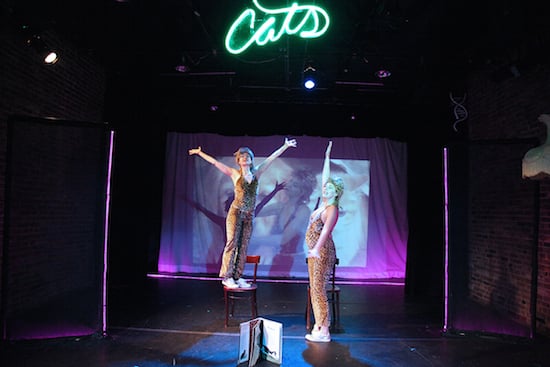 The minimal mise en scène by Kerry Chipman, even without the fleshings-out of the filmed segments, sketches compelling canvases for the motion and story, with just a few neon signs to define space and location, two life-size frames and scrims that create split-screen distances, and one corner of comfy squalid clutter; I had particular fun wondering what the neon DNA-helix had to do with the "BAR" and "CATS" signs. Derek Wright's lighting directs us to what we should see, and defines what we don't, with economy and inventiveness. Cion's direction is antic and exact, a disciplined but adventurous temperament matched well with Katzberg's and Woolley's considered slapstick (and as with Cion's own starring show Me & Mr. Jones, the performers' eyes are among the most important props, here ranging from haywire hazy squints of existential inebriation to Norma Desmond detonations of shock and umbrage).
Biting (heh) but never unkind, cheap in the most valuable way, a scrapheap of cultural signifiers astutely selected for comedic escape and social critique, STRAYS is well worth taking in, and has implications that will follow you home, and never wanders from its course, and…!
***
MORE POSTS by ADAM McGOVERN: OFF-TOPIC (2019–2023 monthly) | textshow (2018 quarterly) | PANEL ZERO (comics-related Q&As, 2018 monthly) | THIS: (2016–2017 weekly) | PEOPLE YOU MEET IN HELL, a 5-part series about characters in McGovern's and Paolo Leandri's comic Nightworld | Two IDORU JONES comics by McGovern and Paolo Leandri | BOWIEOLOGY: Celebrating 50 years of Bowie | ODD ABSURDUM: How Felix invented the 21st century self | CROM YOUR ENTHUSIASM: C.L. Moore's JIREL OF JOIRY stories | KERN YOUR ENTHUSIASM: Data 70 | HERC YOUR ENTHUSIASM: "Freedom" | KIRK YOUR ENTHUSIASM: Captain Camelot | KIRB YOUR ENTHUSIASM: Full Fathom Five | A 5-part series on Jack Kirby's Fourth World mythos | Reviews of Annie Nocenti's comics Katana, Catwoman, Klarion, and Green Arrow | The curated series FANCHILD | To see all of Adam's posts, including HiLo Hero items on Lilli Carré, Judy Garland, Wally Wood, and others: CLICK HERE