Anton Chekhov
By: Mike Fleisch
January 29, 2013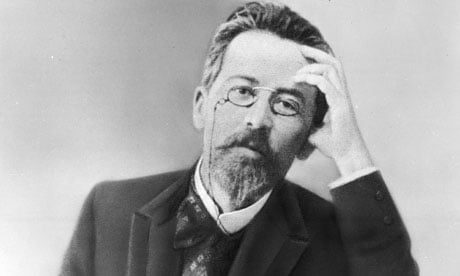 Virtuosity and formal rigor, grand themes, morality and power across time and space, all bolstered by the weight of a huge nation with a keen sense of loss — when you're reading Dostoyevsky or watching Tarkovsky, you know that you're experiencing Art. Russian physician and author ANTON CHEKHOV (1860–1904) preferred the quiet breath of bitter laughter to the shouts of heroes or the wail of tragedy; less redemption, less justification. Chekhov's characters endure smaller failures — frequently, misplaced confidence that others think and experience the world as they do — and their situation tends to remain unchanged. The coffin-maker who measures his dying wife as she leans on a stove, the cab driver whose fares won't listen to him lament his dead son (so he tells his horse), the 9-year-old orphan slave who desperately mails a plea for help, addressed, "To Grandfather in the village," and then falls asleep imagining the precise details of happier days ahead. The little absurdities that might ruin a single life fascinated Chekhov, and his simple style — instead of moralizing or narrative thrills, he aimed for "total objectivity," "audacity and originality," and "compassion" — allows us to feel what we will about them. He wasn't talking about Art, just the specifics of life and death; it's not that big a deal.
***
On his or her birthday, HiLobrow irregularly pays tribute to one of our high-, low-, no-, or hilobrow heroes. Also born this date: W.C. Fields.
READ MORE about members of the Plutonian Generation (1854-63).