HADRON AGE SF (70)
By: Joshua Glenn
October 4, 2023
One in a series of posts about the 75 best sf adventures published during the genre's Hadron Age era (from 2004–2023, according to HILOBROW's periodization schema). For Josh Glenn's Hadron Age Sci-Fi 75 list (a work in progress), click here.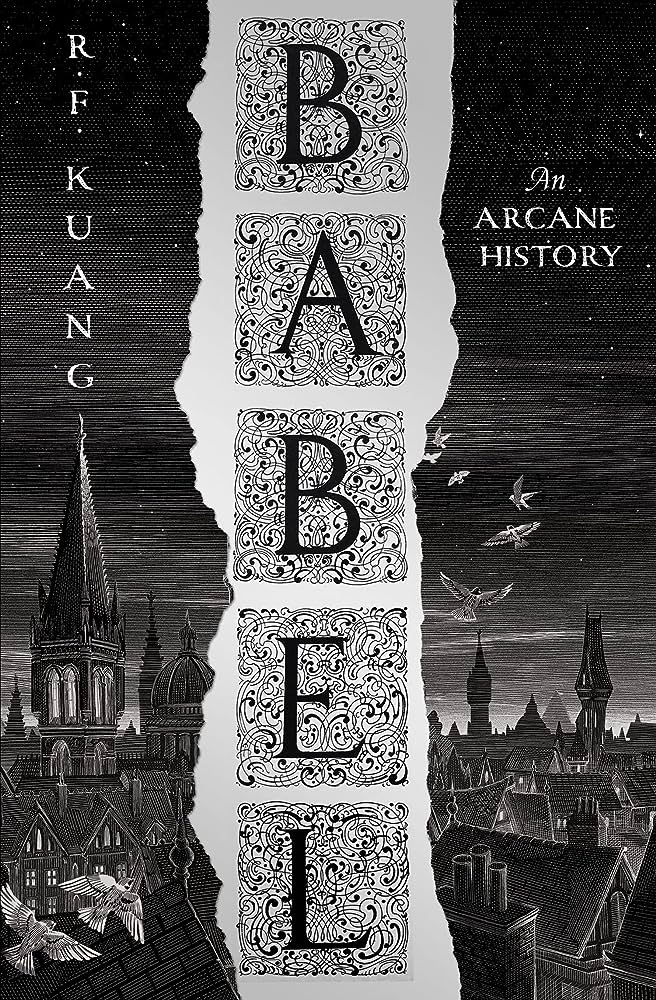 R.F. Kuang's Babel (2022).
A "dark academia" adventure — categorized as Historical Fantasy, but one could make a case that it's Science Fantasy or even semiopunk sf — following the learning curve of "Robin Swift," a Chinese boy whisked away to 1830s London, then Oxford by Professor Lovell, a callous linguist and fervent supporter of the British Empire (and Robin's biological father). In this version of world history, Lovell and other Oxford linguists have discovered — using empirical experimentation, not sorcery — how to tap into and control various unseen forces and potentials inhering in the art and science of translating words from one language into another. It seems that if one can find the correct pairing of terms from two languages — terms that appear to be synonymous, but which aren't exactly so — and engrave them onto silver bars, then the bar will begin to radiate energy specific to that pairing, allowing the user to accomplish a specific action that would otherwise prove difficult or impossible. "The power of the bar lies in in words," one professor explains. "More specifically, the stuff of language that words are incapable of expressing — the stuff that gets lost when we move between one language and another." This silver-work, as its called, has become the foundation of England's everyday functioning, as well as its imperial ambitions. Along with Ramy from Calcutta, Victoire from Haiti, and Letty, a white British admiral's daughter — all of whom are also studying at Babel, which is Oxford's prestigious Royal Institute of Translation — Robin is inducted into the secret of this advanced scientific word-magic, which delves into "that sublime, unnameable place where meaning [is] created" — in order to increase industrial and agricultural production, improve the accuracy of bullets, heal injuries, and so forth. Women and people of color are second-class citizens at Oxford — but Robin and his friends are seduced by the prospect of belonging in this rarified space. We discover that Oxford's silver-workers have run out of word-pairings from the Romance languages, so they're now seeking to translate Mandarin, Haitian Creole, Arabic, and other "exotic" languages. Robin and his friends figure out the truth about the use of language and translation as a hegemonic tool of the Empire, and — once Robin stumbles upon a British plot against China — each of them must decide where their ultimate loyalty lies.
Fun facts: Winner of the Nebula Award for Best Novel. "It's a love letter and breakup letter to Oxford. It gnaws at questions that have bothered me since I started graduate school — chiefly the brokenness of academia, and the sacrifices that true change might require," Kuang has explained. "It's all the gnarly, bizarre, fascinating facets to linguistics, translation, and colonialism I've been studying over the past few years."
***
JOSH GLENN'S *BEST ADVENTURES* LISTS: BEST 250 ADVENTURES OF THE 20TH CENTURY | 100 BEST OUGHTS ADVENTURES | 100 BEST RADIUM AGE (PROTO-)SCI-FI ADVENTURES | 100 BEST TEENS ADVENTURES | 100 BEST TWENTIES ADVENTURES | 100 BEST THIRTIES ADVENTURES | 75 BEST GOLDEN AGE SCI-FI ADVENTURES | 100 BEST FORTIES ADVENTURES | 100 BEST FIFTIES ADVENTURES | 100 BEST SIXTIES ADVENTURES | 75 BEST NEW WAVE SCI FI ADVENTURES | 100 BEST SEVENTIES ADVENTURES | 100 BEST EIGHTIES ADVENTURES | 75 BEST DIAMOND AGE SCI-FI ADVENTURES | 100 BEST NINETIES ADVENTURES | 75 BEST HADRON AGE SCI-FI ADVENTURES.