REFRACTION OF LIGHT
By: Emil Raymond
June 22, 2023
A (pro- or anti-) science-, mathematics-, technology-, space-, apocalypse-, dehumanization-, disenchantment-, and/or future-oriented poem published during sf's emergent Radium Age (c. 1900–1935). Research and selection by Joshua Glenn.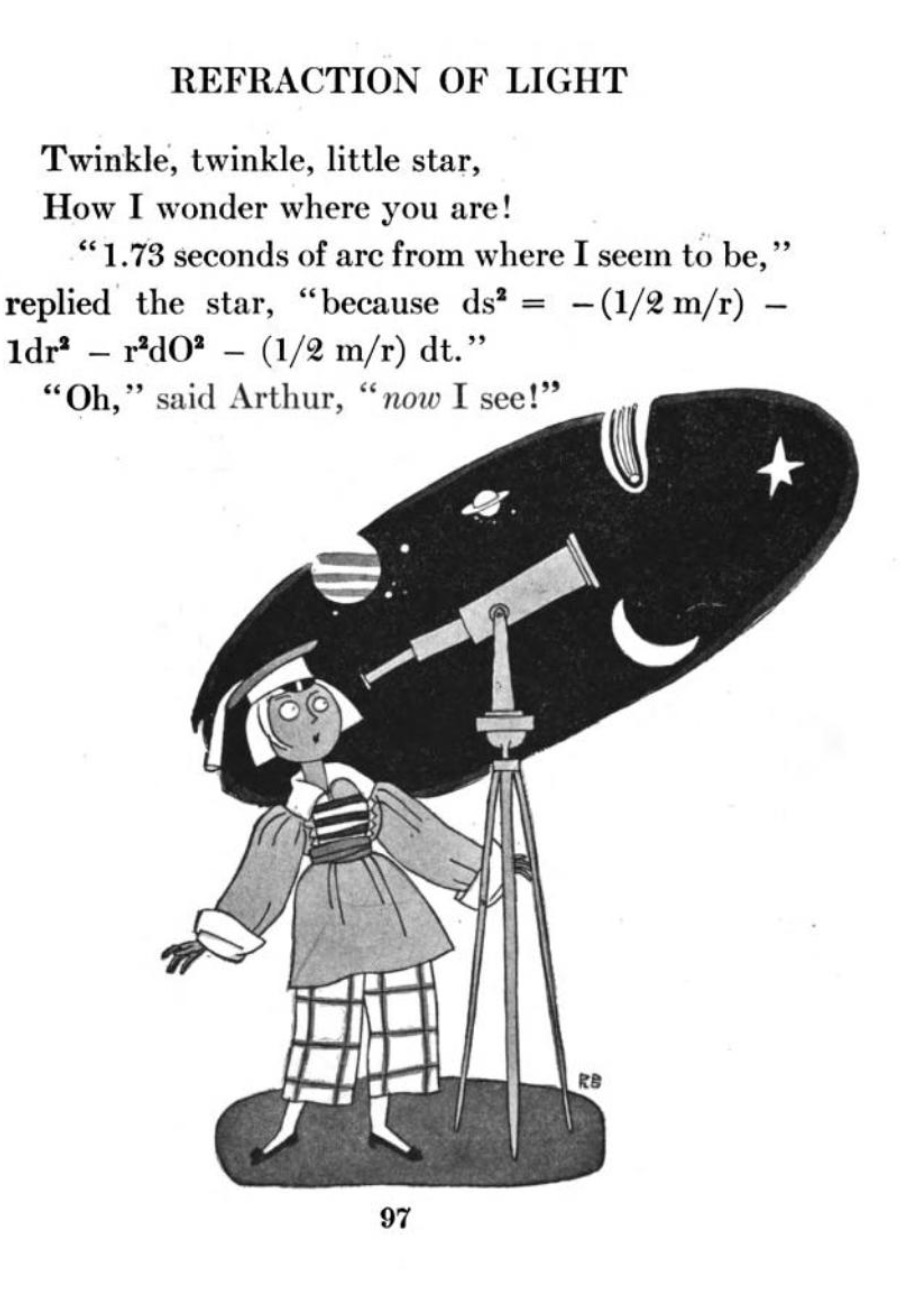 Twinkle, twinkle, little star,
How I wonder where you are!
"1.73 seconds of arc from where I seem to be," replied the star, "because ds2 = –(1/2 m/r) – 1 dr2 – 1dr2 – r2dO2 – (1/2 m/r) dt."
"Oh," said Arthur, "now I see!"
I found this 1924 poem in the 1958 anthology Fantasia Mathematica, ed. Clifton Fadiman. I've seen the formula reproduced differently, but this is how it appears in the original.
The author is Ralph Barton; one hears that this was a pen name for Emil Raymond (author of, for example, "The Spirit Quarterback," in the February 1927 issue of the pulp magazine Ghost Stories).This pen name confuses me, because there was a real-life satirist named Ralph Barton.
The poem comes from this book, by "Ralph Barton": Science in Rhyme and Without Reason (Putnam, 1924). The author is described on the frontispiece as a Professor of Legerdemain. (WITH 76 ILLUSTRATIONS AND DIAGRAMS SPECIALLY PREPARED BY THE AUTHOR. CONTENT AERONAUTICS, AESTHETICS, ASTRONOMY, BACTERIOLOGY, BIOLOGY, BOTANY, CHEMISTRY, ELECTRICITY, ETHNOLOGY, EVOLUTION, GEOGRAPHY, GEOLOGY, MEDICINE, METEOROLGY, NATURAL HISTORY, OCEANOGRAPHY, PSYCHOLOGY, RELATIVITY, SOCIOLOGY, WIRELESS TELEPHONY, ZOOLOGY.)
There is what seems to be an anti-racist poem in here, in the section mocking anthropologists; though the illustration is racist. There's also a poem in Psychic Science poking fun at the Society for Psychical Research. Also see the poem "The Twelve Who Understand Einstein." ("Number Eight is any man whose wife says, "Please explain it.' Nice.) There's quite a bit more about Einstein too.
***
RADIUM AGE PROTO-SF POETRY: Stephen Spender's THE PYLONS | George Sterling's THE TESTIMONY OF THE SUNS | Archibald MacLeish's EINSTEIN | Thomas Thornely's THE ATOM | C.S. Lewis's DYMER | Stephen Vincent Benét's METROPOLITAN NIGHTMARE | Robert Frost's FIRE AND ICE | Aldous Huxley's FIFTH PHILOSOPHER'S SONG | Sara Teasdale's "THERE WILL COME SOFT RAINS" | Edith Södergran's ON FOOT I HAD TO… | Robert Graves's WELSH INCIDENT | Nancy Cunard's ZEPPELINS | D.H. Lawrence's WELLSIAN FUTURES | & many more.