HADRON AGE SF (60)
By: Joshua Glenn
February 25, 2023
One in a series of posts about the 75 best sf adventures published during the genre's Hadron Age era (from 2004–2023, according to HILOBROW's periodization schema). For Josh Glenn's Hadron Age Sci-Fi 75 list (a work in progress), click here.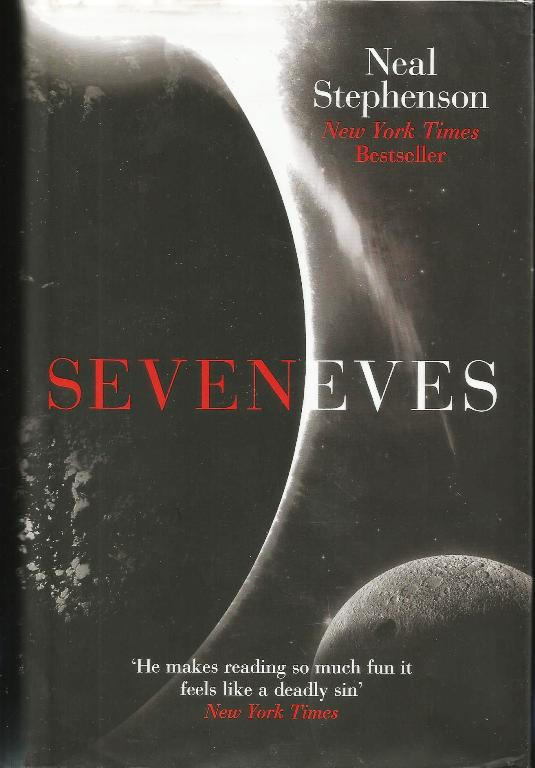 Neal Stephenson's Seveneves (2015).
In the near future, the Moon begins to disintegrate — leaving humankind just two years to select who will survive the catastrophic bombardment of the planet by meteoric fragments, which will cause the atmosphere to heat up to intolerable levels. An outer-space mining company has lassoed a nickel iron asteroid and bolted it to the International Space Station; the plan is to evacuate as many people and resources as possible in a hastily-assembled fleet of "arklets" which will swarm around the ISS. Fewer than two thousand people make it off-planet; their number includes astronauts and scientists. Politics and tribalism lead to devastating losses among the survivors (I'm skipping over hundreds of pages, here), but a handful do manage to capture an ice comet fragment, which they use to propel what's left of the ISS and the fleet to what's left of the Moon. There, they set about rebuilding humankind as a space-based civilization… but there are only seven female survivors capable of bearing children. How to deal with this severe genetic bottleneck? After a conversation about whether the human race is worth saving, what's wrong with humans, what's good about them, and how humankind ought to go forward from that point, a decision is made to allow each of the "Eves" to use the resources of the colony's genetics lab to choose how her offspring will be genetically modified or enhanced. Fast-forward to five thousand years later, where we encounter humankind's new "sub-races" — Dinans, the heroic offspring of asteroid miner Dinah MacQuarie; compassionate Camilans, offspring of a Malala-esque activist from Pakistan; and so forth — at the moment when they finally return to Earth. Which we see, through their eyes, as an impossibly beautiful and perfect habitat for our species.
Fun facts: Asked in an interview whether the epic Seveneves is a dystopian novel, Stephenson replied, "For me a dystopian novel is one in which everybody doesn't die. They are still around and living in bleak, meaningless circumstances. So on one level, my book is way sadder and more depressing than any dystopian book because of the total wipe out of the population. But it's happening as a result of a disaster. It's not because somebody is mean."
***
JOSH GLENN'S *BEST ADVENTURES* LISTS: BEST 250 ADVENTURES OF THE 20TH CENTURY | 100 BEST OUGHTS ADVENTURES | 100 BEST RADIUM AGE (PROTO-)SCI-FI ADVENTURES | 100 BEST TEENS ADVENTURES | 100 BEST TWENTIES ADVENTURES | 100 BEST THIRTIES ADVENTURES | 75 BEST GOLDEN AGE SCI-FI ADVENTURES | 100 BEST FORTIES ADVENTURES | 100 BEST FIFTIES ADVENTURES | 100 BEST SIXTIES ADVENTURES | 75 BEST NEW WAVE SCI FI ADVENTURES | 100 BEST SEVENTIES ADVENTURES | 100 BEST EIGHTIES ADVENTURES | 75 BEST DIAMOND AGE SCI-FI ADVENTURES | 100 BEST NINETIES ADVENTURES | 75 BEST HADRON AGE SCI-FI ADVENTURES.