HADRON AGE SF (45)
By: Joshua Glenn
November 12, 2022
One in a series of posts about the 75 best sf adventures published during the genre's Hadron Age era (from 2004–2023, according to HILOBROW's periodization schema). For Josh Glenn's Hadron Age Sci-Fi 75 list (a work in progress), click here.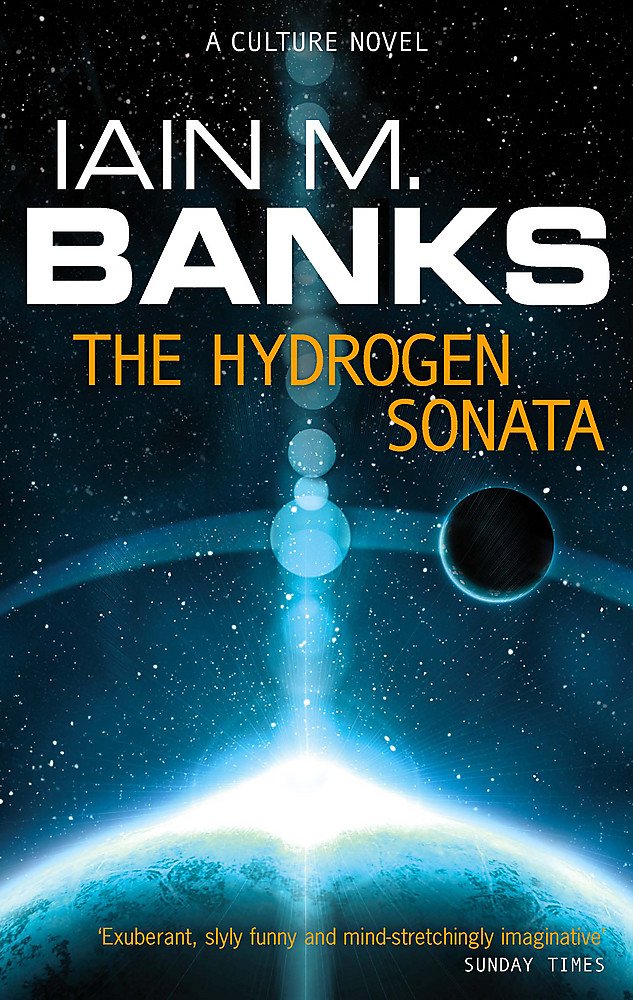 Iain M. Banks's The Hydrogen Sonata (2012).
The Gzilt civilization, an ancient people who helped set up the Culture ten thousand years earlier before deciding not to join up, have made the collective decision to "Sublime," i.e., elevating themselves to an almost god-like, immaterial existence. (An earlier Culture novel, Look to Windward, had developed this notion.) Various scavenger species are circling — waiting to inherit the Gzilt's engineered planets and other massive artifacts. Amid preparations, their Regimental High Command is destroyed — why? And what was the secret that the Zihdren-Remnant (the non-Sublimed remainder of another ancient civilization) had attempted to reveal to them? Did it have something to do with the Gzilts' conviction that theirs was the only civilization whose religious texts had been proven to be completely and utterly true? Vyr Cossont, a musician and reserve military officer who was tasked by the High Command with finding Ngaroe QiRia, a nine-thousand-year-old man who might have some idea about why the Gzilt decided not to join the Culture, is condemned to death… for what appears to be her role in all this. Cossont, we discover, has grown an extra pair or arms specifically in order to play the Antagonistic Undecagonstring; and she has been seeking to perfect her rendition of the Hydrogen Sonata, a wildly complex musical composition for that specific instrument. When Cossont is picked up by the Mistake Not…, a Culture ship of non-standard class, she embarks on a kind of treasure hunt… searching not only for QiRia himself, but also for QiRia's offloaded memories.
Fun facts: Banks died (tragically young) in 2013; this was his last sf novel. The book's release marked 25 years since the publication of Banks's first Culture novel, Consider Phlebas.
***
JOSH GLENN'S *BEST ADVENTURES* LISTS: BEST 250 ADVENTURES OF THE 20TH CENTURY | 100 BEST OUGHTS ADVENTURES | 100 BEST RADIUM AGE (PROTO-)SCI-FI ADVENTURES | 100 BEST TEENS ADVENTURES | 100 BEST TWENTIES ADVENTURES | 100 BEST THIRTIES ADVENTURES | 75 BEST GOLDEN AGE SCI-FI ADVENTURES | 100 BEST FORTIES ADVENTURES | 100 BEST FIFTIES ADVENTURES | 100 BEST SIXTIES ADVENTURES | 75 BEST NEW WAVE SCI FI ADVENTURES | 100 BEST SEVENTIES ADVENTURES | 100 BEST EIGHTIES ADVENTURES | 75 BEST DIAMOND AGE SCI-FI ADVENTURES | 100 BEST NINETIES ADVENTURES | 75 BEST HADRON AGE SCI-FI ADVENTURES.