THE SECOND COMING
By: William Butler Yeats
October 25, 2022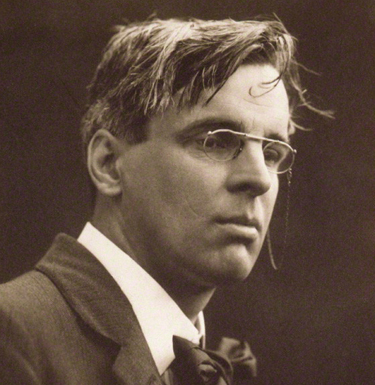 A (pro- or anti-) science-, mathematics-, technology-, space-, apocalypse-, dehumanization-, disenchantment-, and/or future-oriented poem published during sf's emergent Radium Age (c. 1900–1935). Research and selection by Joshua Glenn.
Turning and turning in the widening gyre
The falcon cannot hear the falconer;
Things fall apart; the centre cannot hold;
Mere anarchy is loosed upon the world,
The blood-dimmed tide is loosed, and
everywhere
The ceremony of innocence is drowned;
The best lack all conviction, while the worst
Are full of passionate intensity.
Surely some revelation is at hand;
Surely the Second Coming is at hand.
The Second Coming! Hardly are those
words out
When a vast image out of Spiritus Mundi
Troubles my sight: somewhere in sands of
the desert
A shape with lion body and the head of
a man,
A gaze blank and pitiless as the sun,
Is moving its slow thighs, while all about it
Reel shadows of the indignant desert birds.
The darkness drops again; but now I know
That twenty centuries of stony sleep
Were vexed to nightmare by a rocking
cradle,
And what rough beast, its hour come
round at last,
Slouches towards Bethlehem to be born?
Yeats's "The Second Coming" (w. circa 1918-1919; p. November 1920 in The Dial) is a dark vision of the fate of the world in the aftermath of WWI and the Spanish flu pandemic, the unspoken but manifest double catastrophe — a "jackpot," as William Gibson might put it — that awakens the "rough beast."
***
RADIUM AGE PROTO-SF POETRY: Stephen Spender's THE PYLONS | George Sterling's THE TESTIMONY OF THE SUNS | Archibald MacLeish's EINSTEIN | Thomas Thornely's THE ATOM | C.S. Lewis's DYMER | Stephen Vincent Benét's METROPOLITAN NIGHTMARE | Robert Frost's FIRE AND ICE | Aldous Huxley's FIFTH PHILOSOPHER'S SONG | Sara Teasdale's "THERE WILL COME SOFT RAINS" | Edith Södergran's ON FOOT I HAD TO… | Robert Graves's WELSH INCIDENT | Nancy Cunard's ZEPPELINS | D.H. Lawrence's WELLSIAN FUTURES | & many more.