HADRON AGE SF (40)
By: Joshua Glenn
October 5, 2022
One in a series of posts about the 75 best sf adventures published during the genre's Hadron Age era (from 2004–2023, according to HILOBROW's periodization schema). For Josh Glenn's Hadron Age Sci-Fi 75 list (a work in progress), click here.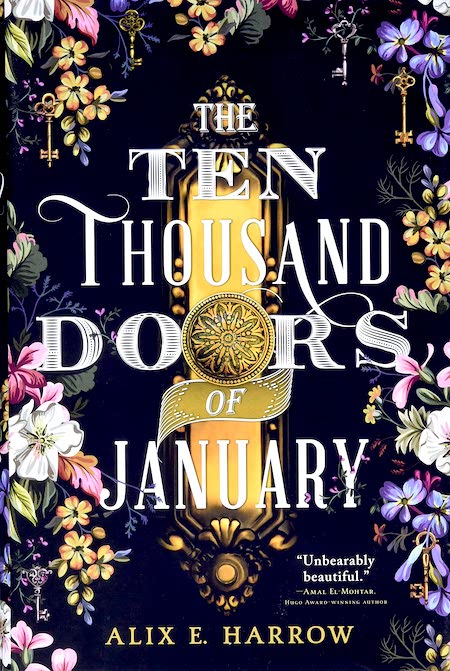 Alix E. Harrow's The Ten Thousand Doors of January (2020).
Harrow's debut novel, set in 1901, concerns January Scaller, a red-skinned young woman whose father works for a Locke, a robber baron in the mold of William Randolph Hearst. Her mother, she believes, is dead. She discovers that our world contains all sorts of "Doors" leading to other worlds; in fact, many of the most consequential shifts in the history of humankind may have had something to do with these doors. Visitors from other worlds have been here; and some of us have visited their worlds too, returning with dangerously subversive ideas and know-how. When Scaller's father disappears, January goes on the run; and discovers, in doing so, not only that Locke has enriched himself by exploiting these Doors… but that a reactionary — racist, sexist, misogynist — secret society exists whose mission it is to close the Doors forever. Janu­ary's autobiographical narrative, spanning decades, is interleaved with passages from a mysterious book, by "Yule Ian Scholar" — a work of fiction, or not? — that will help her understand the Doors… and her own mysterious origins, as well. Accompanied by a cadre of friends — Samuel, the grocer's son; Jane, a Kenyan woman sent by her father to be her companion; and Bad, her ferocious dog — January roams the country, avoiding vampires and assassins, in search of a Door that will lead her… home. Along the way, she discovers the world-making and -remaking power of story telling.
Fun facts: Asked about her inspiration for the places to which her fictional Doors lead, Harrow said, "I worked backwards, beginning with a story or event in our world and imagining the secret Door that might exist behind it. The Indian Rebellion of 1857. Toussaint L'Ouverture's revolution. Selkie stories in Maine and boo-hangs in New Orleans."
***
JOSH GLENN'S *BEST ADVENTURES* LISTS: BEST 250 ADVENTURES OF THE 20TH CENTURY | 100 BEST OUGHTS ADVENTURES | 100 BEST RADIUM AGE (PROTO-)SCI-FI ADVENTURES | 100 BEST TEENS ADVENTURES | 100 BEST TWENTIES ADVENTURES | 100 BEST THIRTIES ADVENTURES | 75 BEST GOLDEN AGE SCI-FI ADVENTURES | 100 BEST FORTIES ADVENTURES | 100 BEST FIFTIES ADVENTURES | 100 BEST SIXTIES ADVENTURES | 75 BEST NEW WAVE SCI FI ADVENTURES | 100 BEST SEVENTIES ADVENTURES | 100 BEST EIGHTIES ADVENTURES | 75 BEST DIAMOND AGE SCI-FI ADVENTURES | 100 BEST NINETIES ADVENTURES | 75 BEST HADRON AGE SCI-FI ADVENTURES.