HADRON AGE SF (38)
By: Joshua Glenn
September 21, 2022
One in a series of posts about the 75 best sf adventures published during the genre's Hadron Age era (from 2004–2023, according to HILOBROW's periodization schema). For Josh Glenn's Hadron Age Sci-Fi 75 list (a work in progress), click here.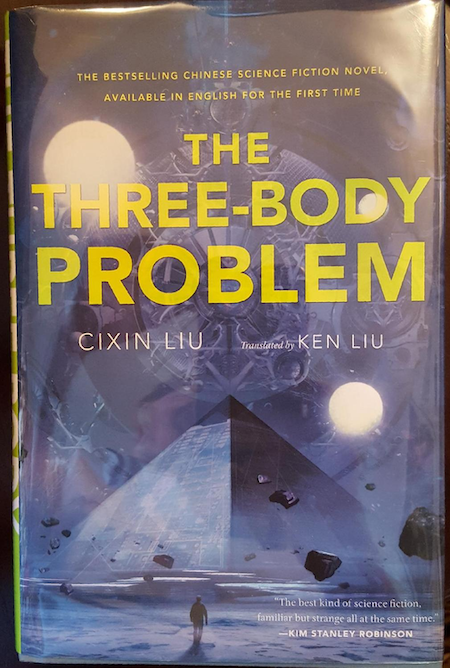 Liu Cixin's The Three-Body Problem (partially serialized 2006, as a novel 2008; Ken Liu's English translation 2014).
During the Cultural Revolution, Ye Wenjie, an astrophysics graduate who has been imprisoned for seditious environmentalism, is recruited to work on what turns out to be a secret military project — sending signals into space to establish contact with aliens. When Trisolaris, an alien civilization on the brink of destruction, intercepts one of Ye's messages, she is glad to learn that they'll invade Earth (though it will take them nearly 500 years to get here)… since she believes that humanity deserves to be wiped out for its crimes against the natural world. A fellow antispeciesist later helps her establish a militant and semi-secret Earth-Trisolaris Organization (ETO) as a fifth column for Trisolaris. In the present day, a nanotech professor and a detective investigate the mysterious deaths and suicides of several scientists — all of whom, they discover, are involved in various factions that have developed within the ETO. One faction, the Redemptionists, have developed an ingenious way to help the Trisolarans find a solution to the titular three-body problem — i.e., their planet is passed between three suns orbiting each other in an unstable system, with cataclysmic consequences. Meanwhile, the Trisolarans have sent to Earth 11-dimensional supercomputers capable of causing mass hallucinations and disrupting Earth's particle accelerators (to prevent Earth from developing technology advanced enough to fight off the invasion). It's an epic saga, endlessly imaginative and full of surprise twists.
Fun facts: The most prolific and popular sf writer in China, Liu won the 2015 Hugo Award for best science-fiction novel for this novel — the first time the prize has gone to a Chinese author. The two subsequent installments in this series are The Dark Forest (2008) and Death's End (2010). A TV series adaptation, written by David Benioff, D.B. Weiss, and Alexander Woo, has been ordered by Netflix.
***
JOSH GLENN'S *BEST ADVENTURES* LISTS: BEST 250 ADVENTURES OF THE 20TH CENTURY | 100 BEST OUGHTS ADVENTURES | 100 BEST RADIUM AGE (PROTO-)SCI-FI ADVENTURES | 100 BEST TEENS ADVENTURES | 100 BEST TWENTIES ADVENTURES | 100 BEST THIRTIES ADVENTURES | 75 BEST GOLDEN AGE SCI-FI ADVENTURES | 100 BEST FORTIES ADVENTURES | 100 BEST FIFTIES ADVENTURES | 100 BEST SIXTIES ADVENTURES | 75 BEST NEW WAVE SCI FI ADVENTURES | 100 BEST SEVENTIES ADVENTURES | 100 BEST EIGHTIES ADVENTURES | 75 BEST DIAMOND AGE SCI-FI ADVENTURES | 100 BEST NINETIES ADVENTURES | 75 BEST HADRON AGE SCI-FI ADVENTURES.