HADRON AGE SF (33)
By: Joshua Glenn
August 20, 2022
One in a series of posts about the 75 best sf adventures published during the genre's Hadron Age era (from 2004–2023, according to HILOBROW's periodization schema). For Josh Glenn's Hadron Age Sci-Fi 75 list (a work in progress), click here.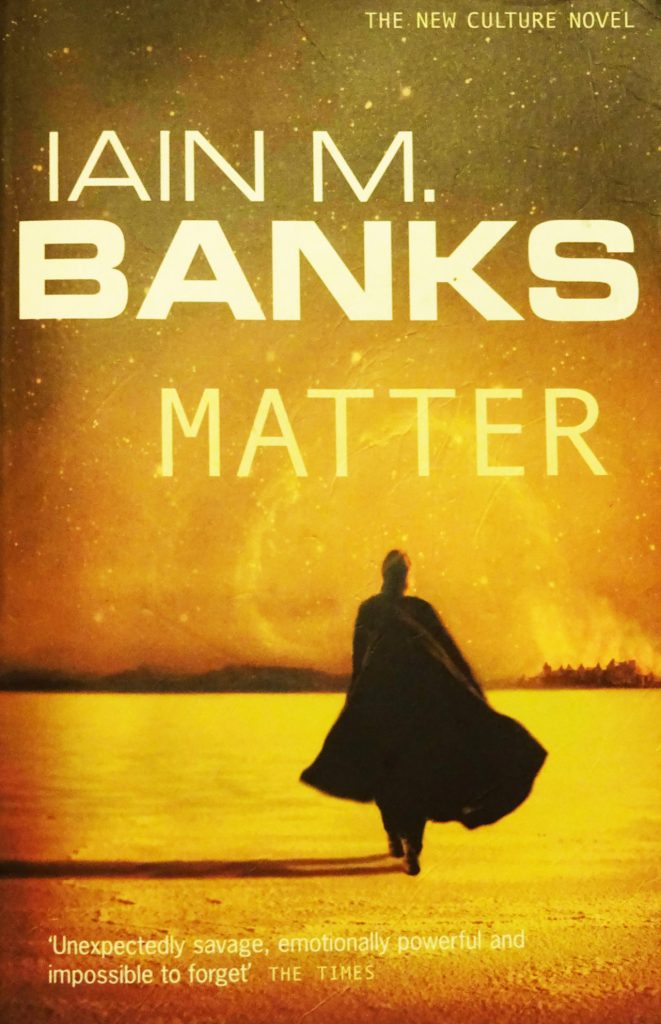 Iain M. Banks's Matter (2008).
Eight years after the previous installment (Look to Windward) in his Culture series, Banks returned with a meditation on how civilizations in contact with one another are necessarily trapped in a hierarchy. One of Matter's characters, Oramen, is a member of the royal household of the Sarl, a feudal, early-industrial humanoid race living on the eighth level of the "shellworld" (an artificial planet consisting of nested concentric spheres internally lit by tiny thermonuclear "stars") of Sursamen. Another character, Oramen's older brother Ferbin, is forced to flee the eighth level and make his way off-world; his journey is an eye-opening one, because — although he was aware that the Sarl are one of the less-advanced civilizations in the galaxy — he's never been anywhere else. The third major character, Djan Seriy Anaplian, sister to the two princes, returns to Sursamen fifteen years after's she's been recruited into the Culture's Special Circumstances organization. Their drama takes place against the background of a plot involving another Sursamen species, who are using the Sarl as pawns in their effort to take over the planet's ninth level… where some amazingly powerful ancient technology has been discovered. This is science fantasy, sort of, in the tradition of Poul Anderson's High Crusade… except the princess is a lethal bad-ass (accompanied by a dildo-shaped combat drone), and the monster is… well, you'll see. PS: Choubris Holse, Ferbin's servant, is also a great character.
Fun fact: "Is this in some sense a story about uneven development — a clash between developed and developing worlds — on a galactic scale?" asked Annalee Newitz in an interview about Matter. It is, Banks, with the anti-anti-utopian twist that "the whole civilizational game is more rewarding for the less developed because they've still got important stuff they can accomplish; those the Sarl call the Optimae – the Culture and its fellow Galactic top dogs – have nowhere to go, nothing more of true substance to win. […] So being a god is boring."
***
JOSH GLENN'S *BEST ADVENTURES* LISTS: BEST 250 ADVENTURES OF THE 20TH CENTURY | 100 BEST OUGHTS ADVENTURES | 100 BEST RADIUM AGE (PROTO-)SCI-FI ADVENTURES | 100 BEST TEENS ADVENTURES | 100 BEST TWENTIES ADVENTURES | 100 BEST THIRTIES ADVENTURES | 75 BEST GOLDEN AGE SCI-FI ADVENTURES | 100 BEST FORTIES ADVENTURES | 100 BEST FIFTIES ADVENTURES | 100 BEST SIXTIES ADVENTURES | 75 BEST NEW WAVE SCI FI ADVENTURES | 100 BEST SEVENTIES ADVENTURES | 100 BEST EIGHTIES ADVENTURES | 75 BEST DIAMOND AGE SCI-FI ADVENTURES | 100 BEST NINETIES ADVENTURES | 75 BEST HADRON AGE SCI-FI ADVENTURES.