HADRON AGE SF (30)
By: Joshua Glenn
July 26, 2022
One in a series of posts about the 75 best sf adventures published during the genre's Hadron Age era (from 2004–2023, according to HILOBROW's periodization schema). For Josh Glenn's Hadron Age Sci-Fi 75 list (a work in progress), click here.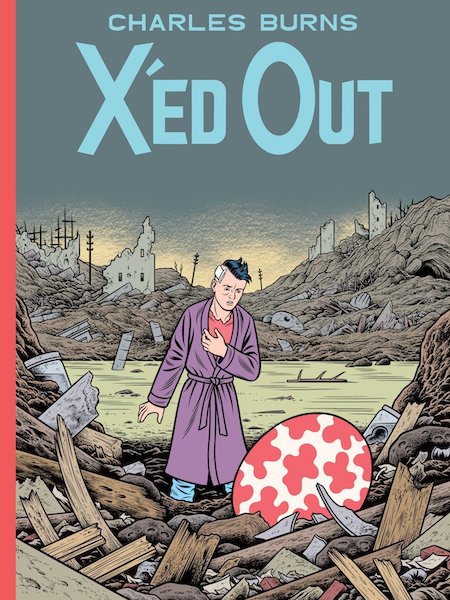 Charles Burns's X'ed Out (2010).
The first installment in the so-called Last Look trilogy was a revelation to me, at the time — Charles Burns in color! The protagonist of this trippy adventure, Doug, is a former art student drifting around the punk milieu of a late 1970s-era Pacific Northwest city; after overdosing on pills, he finds himself transformed into Nitnit — a Tintin-like figure, complete with a jaunty quiff of hair, scuttling around a hallucinatory desert insectoid civilization. (Nitnit turns out to be Doug's performance-art alter ego, in real life.) The book's format and colors, and the clean, open Franco-Belgian lines that Burns adopts here, are Hergé-esque… but the resemblance to Tintin comics ends there. Nitnit is lost in his own mindscape, where lizard men perform arcane rituals around a mysterious hive; fragments of Doug's reality — including, tellingly, scraps of romance comics — litter the landscape. All of this has something to do with Doug's girlfriend Sarah, a fellow wannabe artist, and something terrible that's happened to her. The book's title refers to the X's Doug uses to mark off the tedium of his forlorn existence, as well as to the nihilistic punk mindset of the time. Unlike in a Hergé comic, the action is anything but straightforward; instead, we spiral around, passing through Doug's past and future, until we begin to realize that we're being shown — rather than told — exactly why Doug may never fulfill his potential.
Fun facts: "I wanted to do a story that was based on a period of my life in the late '70s — '78, '79 — when I was in art school and involved in punk music in the Bay Area, San Francisco, Oakland," Burns said in a 2012 interview. "I had a number of false starts, and I realized I was doing it too literally, trying to do some story about what that world was. And at a certain point I just allowed myself to let the story go where it needed to go." Followed by The Hive (2012) and Sugar Skull (2014).
***
JOSH GLENN'S *BEST ADVENTURES* LISTS: BEST 250 ADVENTURES OF THE 20TH CENTURY | 100 BEST OUGHTS ADVENTURES | 100 BEST RADIUM AGE (PROTO-)SCI-FI ADVENTURES | 100 BEST TEENS ADVENTURES | 100 BEST TWENTIES ADVENTURES | 100 BEST THIRTIES ADVENTURES | 75 BEST GOLDEN AGE SCI-FI ADVENTURES | 100 BEST FORTIES ADVENTURES | 100 BEST FIFTIES ADVENTURES | 100 BEST SIXTIES ADVENTURES | 75 BEST NEW WAVE SCI FI ADVENTURES | 100 BEST SEVENTIES ADVENTURES | 100 BEST EIGHTIES ADVENTURES | 75 BEST DIAMOND AGE SCI-FI ADVENTURES | 100 BEST NINETIES ADVENTURES | 75 BEST HADRON AGE SCI-FI ADVENTURES.