HADRON AGE SF (20)
By: Joshua Glenn
May 17, 2022
One in a series of posts about the 75 best sf adventures published during the genre's Hadron Age era (from 2004–2023, according to HILOBROW's periodization schema). For Josh Glenn's Hadron Age Sci-Fi 75 list (a work in progress), click here.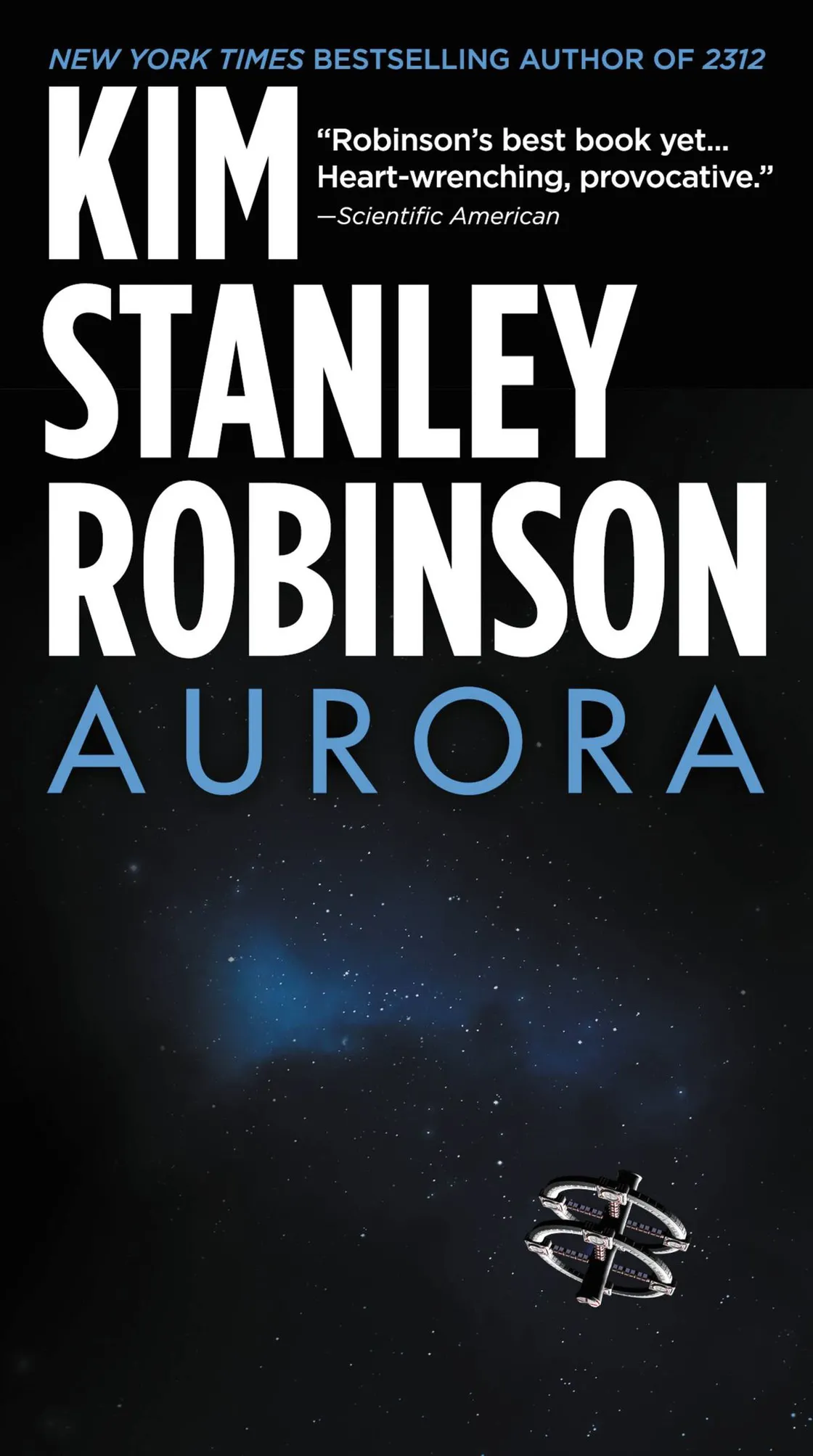 Kim Stanley Robinson's Aurora (2015).
Ship, an artificially intelligent generation starship, despatched from Earth to found a human colony on Aurora, an oxygenated moon in the Tau Ceti system, is our narrator. Ship's two enormous wheels, which are fixed around a central axis, contain twenty-four biomes, designed for maximum diversity of flora and fauna. The colonists who dwell in each ecosystem have, during the past 160 years, formed micro-cultures of their own. Instructed by Devi, the colonists' de facto chief engineer, to tell their story, Ship chooses to focus on Devi's mixed-up daughter, Freya — who travels from one community to another during her teenage wanderjahr, until she is called home when Devi grows sick from cancer. Ship's account of the colonists' resourcefulness — they're faced with one life-threatening technical challenge after another — is gripping; and there is plenty of social commentary as well, as the two thousand colonists have very different ideas about how best to govern themselves as a group. It's also entertaining to observe Ship get better at writing, and feeling emotions, as the story progresses. Once they arrive at Aurora, things do not go according to plan… which leads to a violent political schism among the colonists. Can Ship, who has decided that the expansionists who built it were "criminally negligent narcissists," defuse the situation and work out a compromise between those colonists who choose to remain in the Tau Ceti system and those who want to go home? And can they even get home, at all? Undoubtedly one of the best generation-ship adventures I've ever read.
Fun facts: Kim Stanley Robinson is best known as author of the Mars Trilogy, which is on my list of the 75 Best Diamond Age (1984–2003) sf novels. Two of the three installments in the series, Green Mars (1993) and Blue Mars (1996), won Hugo Awards.
***
JOSH GLENN'S *BEST ADVENTURES* LISTS: BEST 250 ADVENTURES OF THE 20TH CENTURY | 100 BEST OUGHTS ADVENTURES | 100 BEST RADIUM AGE (PROTO-)SCI-FI ADVENTURES | 100 BEST TEENS ADVENTURES | 100 BEST TWENTIES ADVENTURES | 100 BEST THIRTIES ADVENTURES | 75 BEST GOLDEN AGE SCI-FI ADVENTURES | 100 BEST FORTIES ADVENTURES | 100 BEST FIFTIES ADVENTURES | 100 BEST SIXTIES ADVENTURES | 75 BEST NEW WAVE SCI FI ADVENTURES | 100 BEST SEVENTIES ADVENTURES | 100 BEST EIGHTIES ADVENTURES | 75 BEST DIAMOND AGE SCI-FI ADVENTURES | 100 BEST NINETIES ADVENTURES | 75 BEST HADRON AGE SCI-FI ADVENTURES.