Best 1999 Adventures (6)
By: Joshua Glenn
November 4, 2020
One in a series of 10 posts identifying Josh Glenn's favorite 1999 adventure novels.
*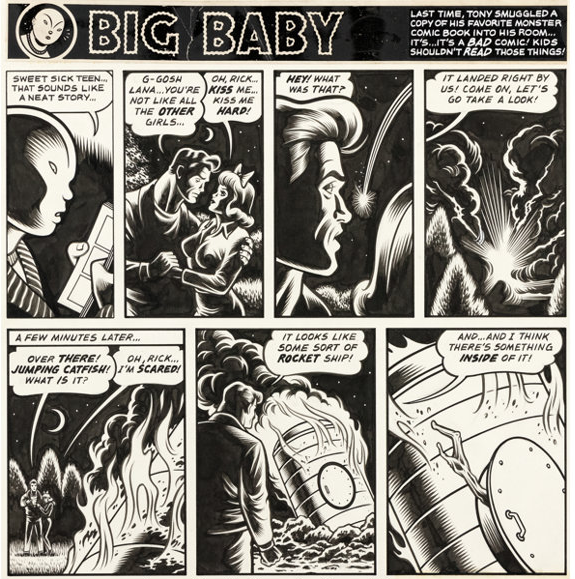 Charles Burns's graphic story collection Big Baby.
These black-and-white comics, published between 1983–1992 and inspired by Burns's own formative experiences of growing up in the suburbs fascinated by grotesque comic books and cheesy sci-fi movies, are must-reads for fans of the author's brilliant 1995–2005 graphic novel Black Hole. Those of us who were impressionable youths when the stories first appeared (for example, in RAW) remember them vividly. The titular Big Baby is the mutant-looking Tony Delmonte, an impressionable adolescent who sneaks out of his room one night… only to find himself entangled in a plot — involving summer-camp murders and backyard burials — right out of a late-night B horror movie. I'm reminded of Gahan Wilson's 1970s comic strip Nuts, about a Gahan Wilson-esque kid who finds humorous weirdness in everyday life; the main difference is Burns's eerie artwork, which leaves the reader feeling trapped in a Twilight Zone-like dimension. "Teen Plague," the story most similar to Black Hole, has haunted me for years; but my favorite is "Curse of the Molemen," an underground adventure prefiguring Burns's more recent, Tintin-like, excellent series X'ed Out (2010), The Hive (2012), and Sugar Skull (2014).
Fun facts: "I was always interested in [the] façade of the American way of life, and what was hidden behind the façade," Burns said in in an interview. "And that's what the first [Big Baby] story deals with: monsters on TV — the fake things on TV — and then the real monster that's living next door who's beating his wife."
***
JOSH GLENN'S *BEST ADVENTURES* LISTS: BEST 250 ADVENTURES OF THE 20TH CENTURY | 100 BEST OUGHTS ADVENTURES | 100 BEST RADIUM AGE (PROTO-)SCI-FI ADVENTURES | 100 BEST TEENS ADVENTURES | 100 BEST TWENTIES ADVENTURES | 100 BEST THIRTIES ADVENTURES | 75 BEST GOLDEN AGE SCI-FI ADVENTURES | 100 BEST FORTIES ADVENTURES | 100 BEST FIFTIES ADVENTURES | 100 BEST SIXTIES ADVENTURES | 75 BEST NEW WAVE SCI FI ADVENTURES | 100 BEST SEVENTIES ADVENTURES | 100 BEST EIGHTIES ADVENTURES | 75 BEST DIAMOND AGE SCI-FI ADVENTURES | 100 BEST NINETIES ADVENTURES | NOTES ON 21st-CENTURY ADVENTURES.