The Last Evolution (5)
By: John W. Campbell
October 30, 2020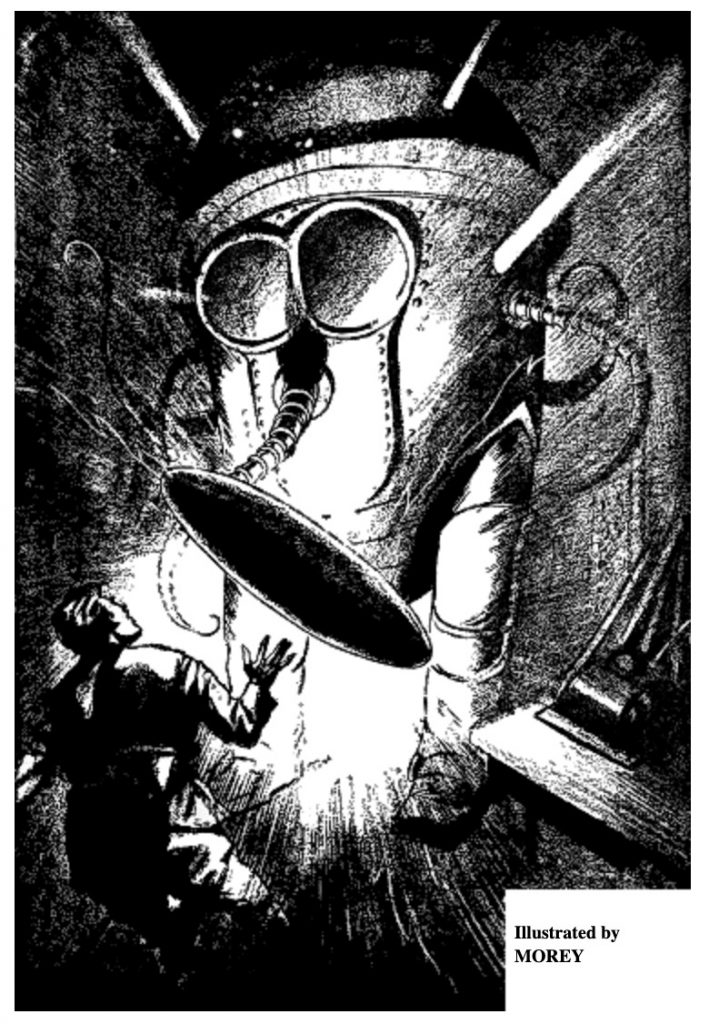 John W. Campbell, the visionary (if also racist and conservative) editor who helped jump-start science fiction's so-called Golden Age when he assumed control of the pulp magazine Astounding in 1937, began his career as a (late) Radium Age sf writer. "The Last Evolution" was published in Amazing Stories in 1932; as its US copyright was not renewed, the story is now in public domain. HILOBROW is pleased to serialize it here, for our readers.
ALL INSTALLMENTS SO FAR
***
"Hydrogen, an atom in space; but a single proton; but a single electron; each indestructible; each mutually destroying. Yet never do they collide. Never in all science, when even electrons bombard atoms with the awful expelling force of the exploding atom behind them, never do they reach the proton, to touch and annihilate it. Yet — the proton is positive and attracts the electron's negative charge. A hydrogen atom — its electron far from the proton falls in, and from it there goes a flash of radiation, and the electron is nearer to the proton, in a new orbit. Another flash — it is nearer. Always falling nearer, and only constant force will keep it from falling to that one state — then, for some reason no more does it drop. Blocked — held by some imponderable, yet impenetrable wall. What is that wall — why?
"Electric force curves space. As the two come nearer, the forces become terrific; nearer they are; more terrific. Perhaps, if it passed within that forbidden territory, the proton and the electron curve space beyond all bounds — and are in a new space." Roal's soft voice dropped to nothing, and his eyes dreamed.
F-1 hummed softly in its new-made mechanism. "Far ahead of us there is a step that no logic can justly ascend, but yet, working backwards, it is perfect." F-1 floated motionless on its anti-gravity drive. Suddenly, force shafts gleamed out, tentacles became writhing masses of rubber-covered metal, weaving in some infinite pattern, weaving in flashing speed, while the whirr of air sucked into a transmutation field, whined and howled about the writhing mass. Fierce beams of force drove and pushed at a rapidly materializing something, while the hum of the powerful generators within the shining cylinder of F-1 waxed and waned.
*
Flashes of fierce flame, sudden crashing arcs that glowed and snapped in the steady light of the laboratory, and glimpses of white-hot metal supported on beams of force. The sputter of welding, the whine of transmuted air, and the hum of powerful generators, blasting atoms were there. All combined to a weird symphony of light and dark, of sound and quiet. About F-1 were clustered floating tiers of science-machines, watching steadily.
The tentacles writhed once more, straightened, and rolled back. The whine of generators softened to a sigh, and but three beams of force held the structure of glowing, bluish metal. It was a small thing, scarcely half the size of Roal. From it curled three thin tentacles of the same bluish metal. Suddenly the generators within F-1 seemed to roar into life. An enormous aura of white light surrounded the small torpedo of metal, and it was shot through with crackling streamers of blue lightning. Lightning cracked and roared from F-1 to the ground near him, and to one machine which had come too close. Suddenly, there was a dull snap, and F-1 fell heavily to the floor, and beside him fell the fused, distorted mass of metal that had been a science-machine.
But before them, the small torpedo still floated, held now on its own power!
From it came waves of thought, the waves that man and machine alike could understand. "F-1 has destroyed his generators. They can be repaired; his rhythm can be re-established. It is not worth it, my type is better. F-1 has done his work. See."
From the floating machine there broke a stream of brilliant light that floated like some cloud of luminescence down a straight channel. It flooded F-1, and as it touched it, F-1 seemed to flow into it, and float back along it, in atomic sections. In seconds the mass of metal was gone.
"It is impossible to use that more rapidly, however, lest the matter disintegrate instantly to energy. The Ultimate Energy which is in me is generated. F-1 has done its work, and the memory-stacks that he has put in me are electronic, not atomic, as they are in you, nor molecular as in man. The capacity of mine are unlimited. Already they hold all memories of all the things each of you has done, known and seen. I shall make others of my type."
NEXT INSTALLMENT | ALL INSTALLMENTS SO FAR
***
SERIALIZED BY HILOBOOKS: Jack London's The Scarlet Plague | Rudyard Kipling's With the Night Mail (and "As Easy as A.B.C.") | Arthur Conan Doyle's The Poison Belt | H. Rider Haggard's When the World Shook | Edward Shanks' The People of the Ruins | William Hope Hodgson's The Night Land | J.D. Beresford's Goslings | E.V. Odle's The Clockwork Man | Cicely Hamilton's Theodore Savage | Muriel Jaeger's The Man With Six Senses | Jack London's "The Red One" | Philip Francis Nowlan's Armageddon 2419 A.D. | Homer Eon Flint's The Devolutionist | W.E.B. DuBois's "The Comet" | Edgar Rice Burroughs's The Moon Men | Charlotte Perkins Gilman's Herland | Sax Rohmer's "The Zayat Kiss" | Eimar O'Duffy's King Goshawk and the Birds | Frances Hodgson Burnett's The Lost Prince | Morley Roberts's The Fugitives | Helen MacInnes's The Unconquerable | Geoffrey Household's Watcher in the Shadows | William Haggard's The High Wire | Hammond Innes's Air Bridge | James Branch Cabell's Jurgen | John Buchan's "No Man's Land" | John Russell's "The Fourth Man" | E.M. Forster's "The Machine Stops" | John Buchan's Huntingtower | Arthur Conan Doyle's When the World Screamed | Victor Bridges' A Rogue By Compulsion | Jack London's The Iron Heel | H. De Vere Stacpoole's The Man Who Lost Himself | P.G. Wodehouse's Leave It to Psmith | Richard Connell's "The Most Dangerous Game" | Houdini and Lovecraft's "Imprisoned with the Pharaohs" | Arthur Conan Doyle's "The Sussex Vampire" | John W. Campbell's "The Last Evolution".
READ GORGEOUS PAPERBACKS: HiLoBooks has reissued the following 10 obscure but amazing Radium Age science fiction novels in beautiful print editions: Jack London's The Scarlet Plague, Rudyard Kipling's With the Night Mail (and "As Easy as A.B.C."), Arthur Conan Doyle's The Poison Belt, H. Rider Haggard's When the World Shook, Edward Shanks' The People of the Ruins, William Hope Hodgson's The Night Land, J.D. Beresford's Goslings, E.V. Odle's The Clockwork Man, Cicely Hamilton's Theodore Savage, and Muriel Jaeger's The Man with Six Senses. For more information, visit the HiLoBooks homepage.