Best 1999 Adventures (1)
By: Joshua Glenn
October 30, 2020
One in a series of 10 posts identifying Josh Glenn's favorite 1999 adventure novels.
*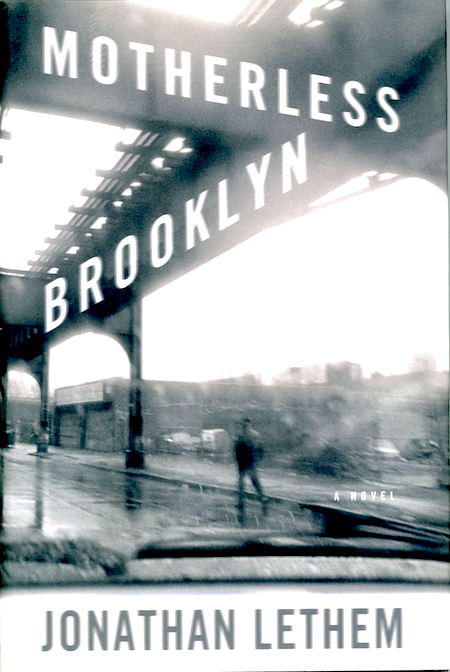 Jonathan Lethem's crime adventure Motherless Brooklyn.
When Frank Minna, a small-time Brooklyn mobster who runs an uncredentialed detective agency masquerading as a limo service, is murdered in an alley, the four "motherless" hood rats whom he'd long ago taken under his wing — they call themselves the Minna Men — react in different ways. Lionel Essrog, our narrator, is a powerfully built, lonely fellow who seeks to discover the truth about what's happened to his mentor and idol; although he suffers from Tourette's and OCD, Lionel's neurologically driven obsessiveness and repetitiveness, not to mention his nonstop penchant for wordplay, prove crucially helpful as he seeks answers. Tony, who's mixed up in a scheme that Frank has concocted, one that involves not only the (rather geriatric) Brooklyn Mob and the shadowy Fujisaki Corporation, sees Frank's death as an opportunity for his own advancement. Danny goes to ground; and Gilbert is arrested on suspicion of the murder of a Fujisaki bookkeeper. It's a fast-paced, often funny but also soulful thriller. A trail of clues leads Lionel to a giant Polish hitman, a femme fatale (Frank's ex-wife), and to a Zen Buddhist instructor with a lot of secrets. As with all of Lethem's novels thus far, Motherless Brooklyn is an affectionate and erudite send-up of a pulp genre; and more than that. Lionel is a sensitive, romantic, self-aware character whose musings on his own verbal tics, and the mysteries of consciousness in general, leaves the reader laughing with him — never at him.
Fun facts: Motherless Brooklyn was awarded the National Book Critics Circle Award for fiction, as well as the Gold Dagger award for crime fiction. The 2019 movie adaptation by Edward Norton takes many liberties with the original, e.g., setting it in 1957. The movie's cast includes Norton, Bruce Willis, Gugu Mbatha-Raw, and Willem Dafoe.
***
JOSH GLENN'S *BEST ADVENTURES* LISTS: BEST 250 ADVENTURES OF THE 20TH CENTURY | 100 BEST OUGHTS ADVENTURES | 100 BEST RADIUM AGE (PROTO-)SCI-FI ADVENTURES | 100 BEST TEENS ADVENTURES | 100 BEST TWENTIES ADVENTURES | 100 BEST THIRTIES ADVENTURES | 75 BEST GOLDEN AGE SCI-FI ADVENTURES | 100 BEST FORTIES ADVENTURES | 100 BEST FIFTIES ADVENTURES | 100 BEST SIXTIES ADVENTURES | 75 BEST NEW WAVE SCI FI ADVENTURES | 100 BEST SEVENTIES ADVENTURES | 100 BEST EIGHTIES ADVENTURES | 75 BEST DIAMOND AGE SCI-FI ADVENTURES | 100 BEST NINETIES ADVENTURES | 75 BEST HADRON AGE SCI-FI ADVENTURES | NOTES ON 21st-CENTURY ADVENTURES.