Best 1997 Adventures (5)
By: Joshua Glenn
September 26, 2020
One in a series of 10 posts identifying Josh Glenn's favorite 1997 adventure novels.
*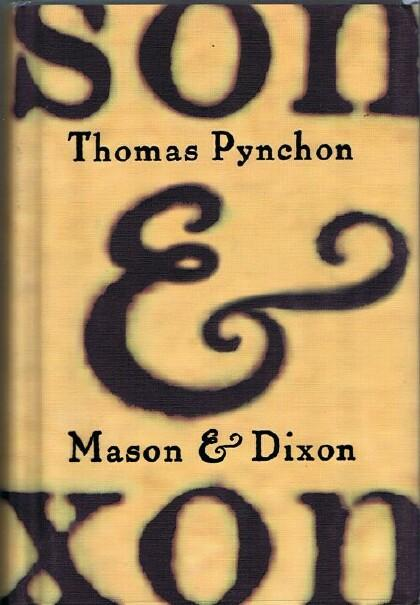 Thomas Pynchon's historical frontier adventure Mason & Dixon.
In 1761, in an ill-fated effort to help determine the distance from the Earth to the Sun, Charles Mason, an English astronomer — and Enlightenment avatar, obsessed with categorical imperatives in science and philosophy — set out on a voyage to Sumatra. He is joined in this endeavor by English surveyor Jeremiah Dixon, a free-thinker and boisterous optimist delighted by cultural heterogeneity and outraged by inequities of power and social injustice. Two years later, accompanied by a large party of assistants, the two men embark upon an effort to accurately establish the south boundary line of Pennsylvania (separating it from Maryland and Virginia), as well as the American province's lower three counties' boundaries. Pynchon's recounting of this true story, via an unreliable narrator speaking in an eighteenth-century idiom, is an epic accomplishment. Mason & Dixon are a Zelig-like comedy duo, stumbling upon the secret history of the 19th and 20th centuries, from the Civil War, UFOS, and New Age mysticism to, you know, the history of slavery and cultural domination. America's vision of liberty and equality is torpedoed, from the beginning, by its Enlightenment-enabled theories of racial and cultural superiority; Mason and Dixon, as they explore and discuss their discoveries on the eve of the Revolutionary War, are emblematic of the fledgling nation's permanently divided consciousness. Across nearly 80 episodes, they encounter Jesuit cabalists, Native Americans, George Washington and Ben Franklin, a French chef fleeing the amorous attentions of a mechanical duck, a Chinese fêng shui master, a Learned English Dog, and — in one of several examples of meta-textual japery — an ancestor of Pig Bodine, from Pynchon's 1963 apophenic adventure V.. Depending on who's listening at any particular moment, the story mutates from heroic tall tale to paranoid quackery to objective description… which is to say, it's an example of self-aware historicizing.
Fun facts: Twenty years in the writing, Mason & Dixon was hailed by readers as the author's most brilliant and entertaining novel since Gravity's Rainbow (1973); some critics, including Harold Bloom, have described it as Pynchon's masterpiece.
***
JOSH GLENN'S *BEST ADVENTURES* LISTS: BEST 250 ADVENTURES OF THE 20TH CENTURY | 100 BEST OUGHTS ADVENTURES | 100 BEST RADIUM AGE (PROTO-)SCI-FI ADVENTURES | 100 BEST TEENS ADVENTURES | 100 BEST TWENTIES ADVENTURES | 100 BEST THIRTIES ADVENTURES | 75 BEST GOLDEN AGE SCI-FI ADVENTURES | 100 BEST FORTIES ADVENTURES | 100 BEST FIFTIES ADVENTURES | 100 BEST SIXTIES ADVENTURES | 75 BEST NEW WAVE SCI FI ADVENTURES | 100 BEST SEVENTIES ADVENTURES | 100 BEST EIGHTIES ADVENTURES | 75 BEST DIAMOND AGE SCI-FI ADVENTURES | 100 BEST NINETIES ADVENTURES | 75 BEST HADRON AGE SCI-FI ADVENTURES | NOTES ON 21st-CENTURY ADVENTURES.