Best 1997 Adventures (2)
By: Joshua Glenn
September 21, 2020
One in a series of 10 posts identifying Josh Glenn's favorite 1997 adventure novels.
*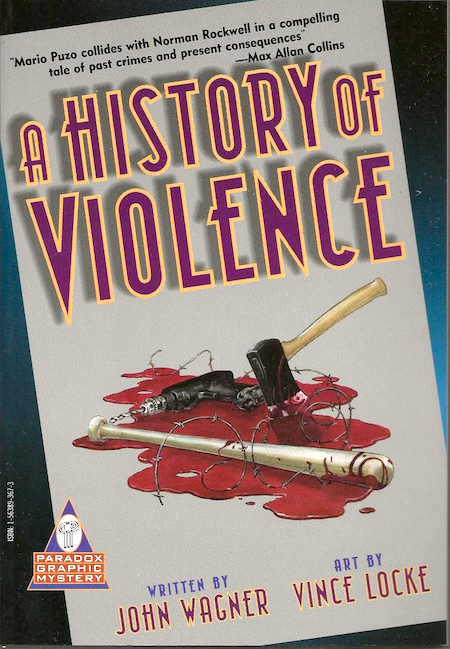 John Wagner and Vince Locke's graphic novel A History of Violence.
When two thugs attempt to rob his cafe — in a small Michigan town — Tom McKenna stops them with surprising facility. The story goes national, and soon three New York mafiosi show up. One of them, John Torrino, an aging hitman, insists that McKenna is a former mobster names Joey — who'd taken it on the lam 20 years earlier. Tom's wife, Edie, and the local sheriff attempt to drive the men off — but when they take Buzz, Tom and Edie's son, hostage, the truth is revealed. Mild-mannered Tom has a history of violence! In fact, in order to acquire the money that his grandmother needed for heart surgery, he and a friend had killed a New York crime boss, along with several associates, and stolen a large sum of money. He's lived under an assumed identity ever since. Even once Tom and Edie rescue Buzz, the story isn't over. It seems that Tom's old friend has been a prisoner of the dead mobster's sadistic son, for all these years. Can he rescue him? And if he returns to a life of violence, will he lose his family? Vince Locke, whose ultra-violent watercolors have been used as album covers by a death metal band, provides cinematic, gruesome, yet sketchy and cross-hatched — storyboard-like — artwork.
Fun facts: Originally published in 1997 by Paradox Press and later by Vertigo Comics, both imprints of DC Comics. Wagner, though born in the US, grew up in England. In 1977, with artist Carlos Ezquerra, he developed the character Judge Dredd for 2000 AD. (Warren Ellis, Alan Moore, and others were inspired by Wagner's work.) David Cronenberg's excellent adaptation of A History of Violence, starring Viggo Mortensen, Maria Bello, Ed Harris, and William Hurt, appeared in 2005.
***
JOSH GLENN'S *BEST ADVENTURES* LISTS: BEST 250 ADVENTURES OF THE 20TH CENTURY | 100 BEST OUGHTS ADVENTURES | 100 BEST RADIUM AGE (PROTO-)SCI-FI ADVENTURES | 100 BEST TEENS ADVENTURES | 100 BEST TWENTIES ADVENTURES | 100 BEST THIRTIES ADVENTURES | 75 BEST GOLDEN AGE SCI-FI ADVENTURES | 100 BEST FORTIES ADVENTURES | 100 BEST FIFTIES ADVENTURES | 100 BEST SIXTIES ADVENTURES | 75 BEST NEW WAVE SCI FI ADVENTURES | 100 BEST SEVENTIES ADVENTURES | 100 BEST EIGHTIES ADVENTURES | 75 BEST DIAMOND AGE SCI-FI ADVENTURES | 100 BEST NINETIES ADVENTURES (in progress) | 1994 | 1995 | 1996 | 1997 | 1998 | 1999 | 2000 | 2001 | 2002 | 2003 | NOTES ON 21st-CENTURY ADVENTURES.