Best 1994 Adventures (2)
By: Joshua Glenn
July 20, 2020
One in a series of 10 posts identifying Josh Glenn's favorite 1994 adventure novels.
*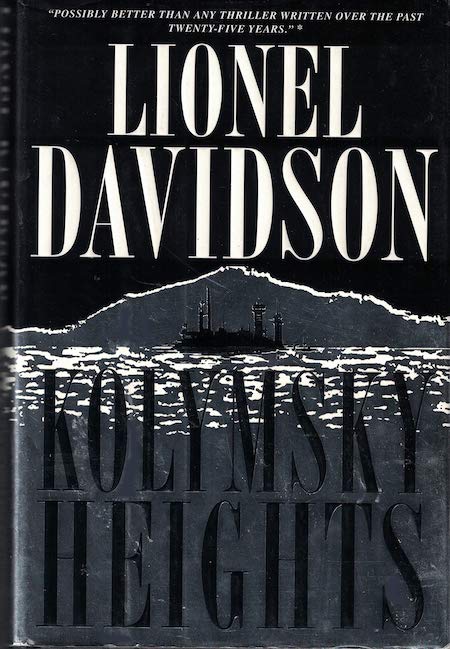 Lionel Davidson's espionage thriller Kolymsky Heights. After a 16-year hiatus from writing adventures for adults, Davidson returned with his final novel — a beautifully written, action-picked yarn to rival his best works, including The Rose of Tibet (1962), A Long Way to Shiloh (1966), and Making Good Again (1968). Dr. Johnny Porter, a Canadian professor of anthropology who has mastered the languages and dialects of the various tribes of Northern Canada, Alaska and Siberia, as well as Korean, Russian, and Japanese, is himself descended from Inuits — who remain physically, ethnically and culturally similar to their Siberian counterparts. He is, therefore, the only westerner who can hope to break into — and back out of — a Soviet scientific research base (ostensibly a weather station) in Siberia, one so secret that no one who enters is ever allowed to leave again. After receiving some training by the CIA, a reluctant Porter heads from Japan to Siberia disguised as a Korean sailor; this is only phase one of a multi-stage plan which will see our hero adopt multiple disguises, and survive by his wits. It's a hunted-man story and man-agaist-nature story to rival anything by Buchan, Ambler, or Hammond Innes.
Fun facts: Writing for The New York Times Book Review, James Carroll enthused that Kolymsky Heights — Davidson's final novel — is "written with the panache of a master and with the wide-eyed exhilaration of an adventurer in the grip of discovery. Mr. Davidson has not only rescued one of the most familiar narrative forms of the era, the spy thriller; he has also renewed it."
***
JOSH GLENN'S *BEST ADVENTURES* LISTS: BEST 250 ADVENTURES OF THE 20TH CENTURY | 100 BEST OUGHTS ADVENTURES | 100 BEST RADIUM AGE (PROTO-)SCI-FI ADVENTURES | 100 BEST TEENS ADVENTURES | 100 BEST TWENTIES ADVENTURES | 100 BEST THIRTIES ADVENTURES | 75 BEST GOLDEN AGE SCI-FI ADVENTURES | 100 BEST FORTIES ADVENTURES | 100 BEST FIFTIES ADVENTURES | 100 BEST SIXTIES ADVENTURES | 75 BEST NEW WAVE SCI FI ADVENTURES | 100 BEST SEVENTIES ADVENTURES | 100 BEST EIGHTIES ADVENTURES | 75 BEST DIAMOND AGE SCI-FI ADVENTURES | 100 BEST NINETIES ADVENTURES (in progress) | 1994 | 1995 | 1996 | 1997 | 1998 | 1999 | 2000 | 2001 | 2002 | 2003 | NOTES ON 21st-CENTURY ADVENTURES.