Best 1994 Adventures (1)
By: Joshua Glenn
July 18, 2020
One in a series of 10 posts identifying Josh Glenn's favorite 1994 adventure novels.
*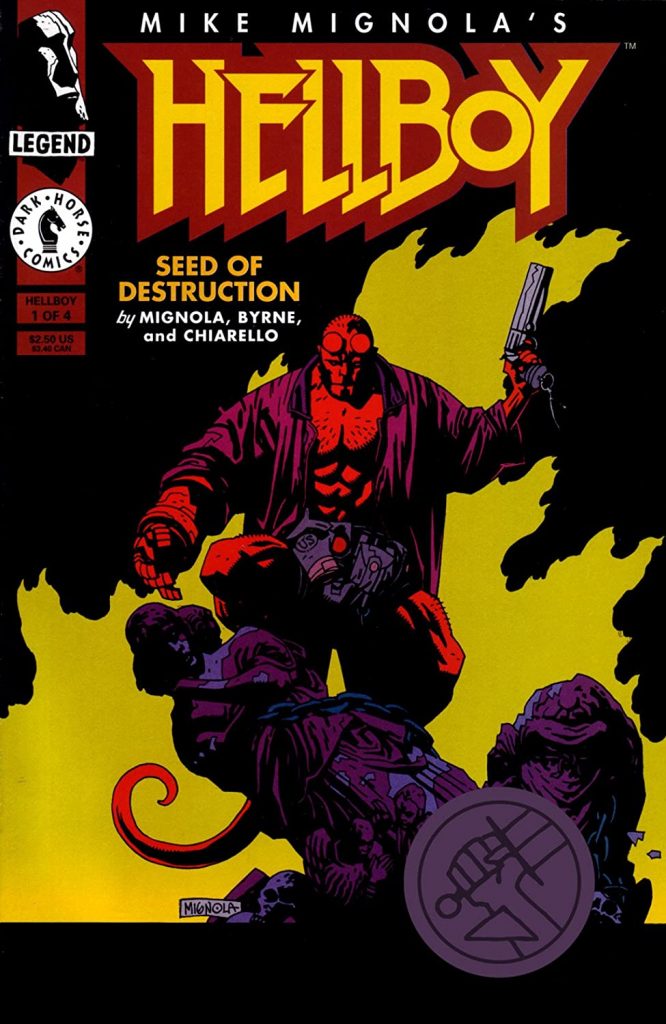 Mike Mignola's Hellboy comics (1994–present).
The Dark Horse Comics story "Seed of Destruction" (serialized March–June 1994), written and drawn by Mignola with script by John Byrne, introduces us to one of the great comic-book characters of the era: the half-demon Hellboy. (Yes, there were one or two previous appearances, but here is where the Hellboy epic begins.) Summoned from Hell by Nazi occultists, then raised by Professor Trevor Bruttenholm, who after WWII would form the Bureau for Paranormal Research and Defense (B.P.R.D.), Hellboy is a gruff, emotionally immature, but kind-hearted creature… whose grafted-on right hand is an apocalyptic demon-relic. He's also the World's Greatest Paranormal Investigator. Accompanied by a troubleshooting team of law enforcement officials, soldiers, mutants, and "scholars of the weird" (e.g., folkorist Kate Corrigan, the amphibian Abe Sapien, and the pyrokinetic Liz Sherman), Hellboy battles grotesque foes in a series of tall tales inspired by folklore, pulp magazines, Lovecraftian horror, and horror fiction. Mignola's drawing style — thin lines, unwieldy shapes, a heavy use of black forms — has become iconic.
Fun facts: Ron Perlman was an inspired casting choice for the 2004 and 2008 live-action Hellboy movies, directed by Guillermo del Toro. David Harbour's performance in the 2019 reboot was also fun, but the movie wasn't as good as the original two. The Hellboy character has also starred in animated films and three video games.
***
JOSH GLENN'S *BEST ADVENTURES* LISTS: BEST 250 ADVENTURES OF THE 20TH CENTURY | 100 BEST OUGHTS ADVENTURES | 100 BEST RADIUM AGE (PROTO-)SCI-FI ADVENTURES | 100 BEST TEENS ADVENTURES | 100 BEST TWENTIES ADVENTURES | 100 BEST THIRTIES ADVENTURES | 75 BEST GOLDEN AGE SCI-FI ADVENTURES | 100 BEST FORTIES ADVENTURES | 100 BEST FIFTIES ADVENTURES | 100 BEST SIXTIES ADVENTURES | 75 BEST NEW WAVE SCI FI ADVENTURES | 100 BEST SEVENTIES ADVENTURES | 100 BEST EIGHTIES ADVENTURES | 75 BEST DIAMOND AGE SCI-FI ADVENTURES | 100 BEST NINETIES ADVENTURES (in progress) | 1994 | 1995 | 1996 | 1997 | 1998 | 1999 | 2000 | 2001 | 2002 | 2003 | NOTES ON 21st-CENTURY ADVENTURES.