Best 1993 Adventures (2)
By: Joshua Glenn
July 2, 2020
One in a series of 10 posts identifying Josh Glenn's favorite 1993 adventure novels.
*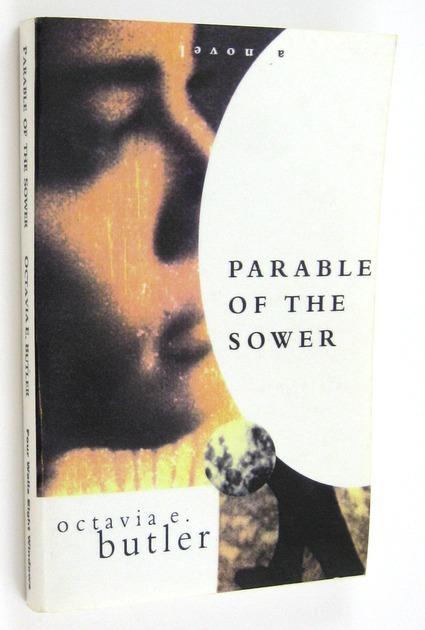 Octavia E. Butler's Earthseed sci-fi adventure Parable of the Sower.
Lauren Olamina, a teenager living in a gated community outside of Los Angeles, suffers from hyper-empathy; she viscerally feels whatever physical pain she witnesses. However, in the not-too-distant future (the 2020s), when the social order begins to collapse due to global warming, economic stagnation, racism and sexism, and extreme wealth disparity, Lauren's condition may prove to be a super-power, of sorts. If she can survive, and find people she can trust — then Lauren's prophetic "seeds" — her ideas for a new social order, one based on a religion that will teach self-sufficiency and a radically new understanding of what God is — may have a chance of finding purchase. The story, told through (rather stoic, matter-of-fact) journal entries, details the brutal events that come to pass during the early days of America's collapse, as well as Lauren's efforts to found a utopian "Earthseed" commune in northern California. Now that it's nearly 2020, Butler's depiction of what's to come — including a president who aims to make America great again by suspending minimum wage, environmental, and worker protection laws — feels depressingly, chillingly accurate.
Fun facts: The first in a two-book series. The book's title is borrowed from a parable that Jesus tells (in Matthew 13:1-23, Mark 4:1-20, and Luke 8:4-15) about a sower whose seed falls on various patches of ground, most — but not all — of which are inhospitable.
***
JOSH GLENN'S *BEST ADVENTURES* LISTS: BEST 250 ADVENTURES OF THE 20TH CENTURY | 100 BEST OUGHTS ADVENTURES | 100 BEST RADIUM AGE (PROTO-)SCI-FI ADVENTURES | 100 BEST TEENS ADVENTURES | 100 BEST TWENTIES ADVENTURES | 100 BEST THIRTIES ADVENTURES | 75 BEST GOLDEN AGE SCI-FI ADVENTURES | 100 BEST FORTIES ADVENTURES | 100 BEST FIFTIES ADVENTURES | 100 BEST SIXTIES ADVENTURES | 75 BEST NEW WAVE SCI FI ADVENTURES | 100 BEST SEVENTIES ADVENTURES | 100 BEST EIGHTIES ADVENTURES | 75 BEST DIAMOND AGE SCI-FI ADVENTURES | 100 BEST NINETIES ADVENTURES (in progress) | 1994 | 1995 | 1996 | 1997 | 1998 | 1999 | 2000 | 2001 | 2002 | 2003 | NOTES ON 21st-CENTURY ADVENTURES.