Best 1992 Adventures (10)
By: Joshua Glenn
June 20, 2020
One in a series of 10 posts identifying Josh Glenn's favorite 1992 adventure novels.
*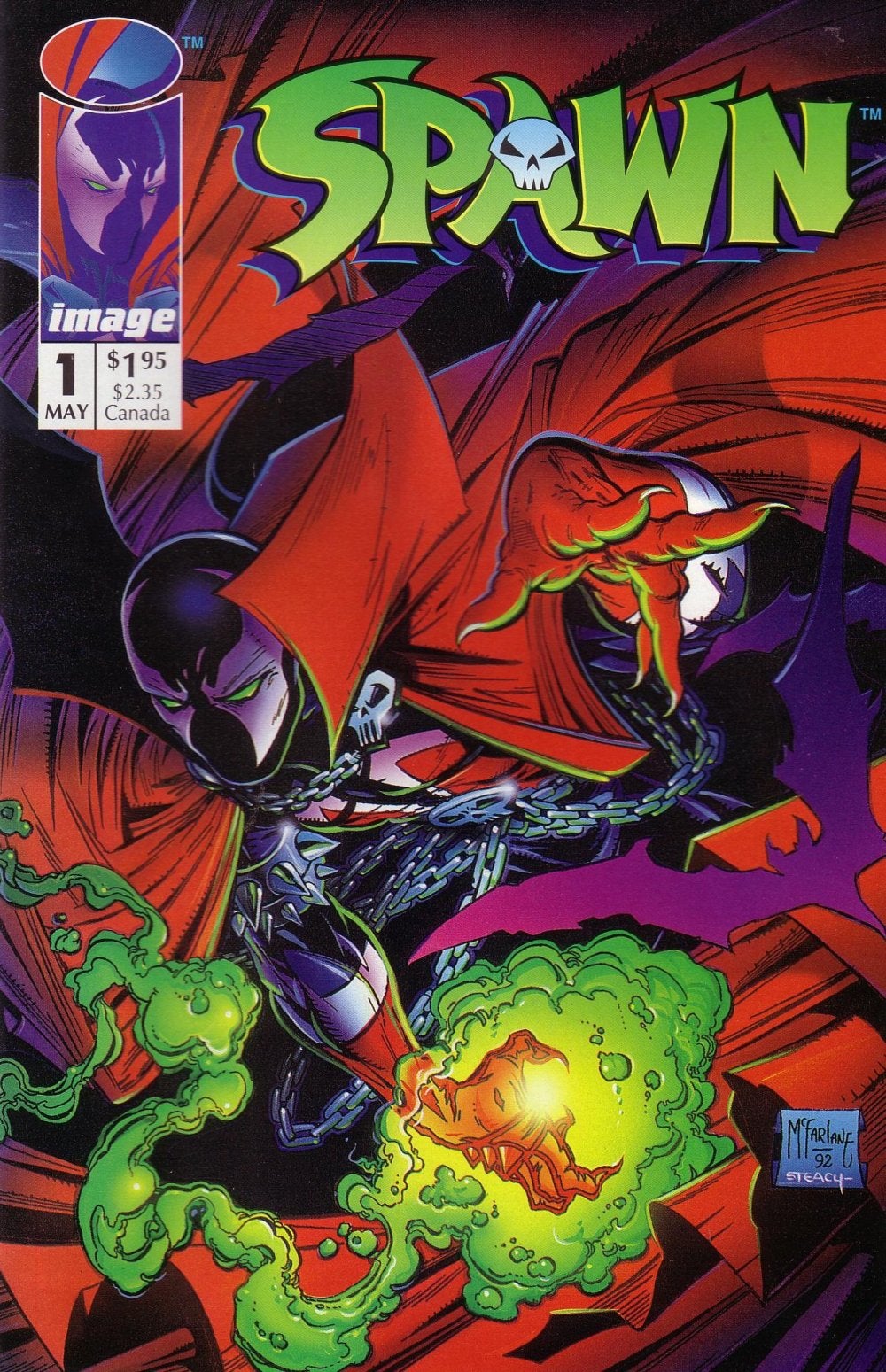 Todd McFarlane's Spawn superhero comic (1992–ongoing).
In the late 1980s and early 1990s, Todd McFarlane was the bestselling writer and artist at Marvel Comics. Blame him, if you're not a fan of this sort of thing (I'm not), for the 'roid rage-ish "blood and boobs" style of the era's most popular titles. He portrayed Peter Parker as a jacked-up, spiderish freak, and Mary Jane as a Red Sonja-esque bombshell; and he drew the first full appearances of Venom. In 1992, he helped transform the industry by cofounding Image Comics, contributors to which (supposedly) owned the rights to their creations; detractors were nonplussed by Image's focus on cranking out of collectible products to the exclusion of, like, quality art or storytelling. Still, we can't ignore the success of Spawn — an elite government assassin who is murdered by his best friend, then returns from Hell as a reluctant soldier of Malebolgia (the Devil). There were many morally compromised characters in comics, at the time, and plenty of gore; but Spawn immediately became iconic. The first issue sold 1.7 million copies, an indie record. Several talented writers — Alan Moore, Neil Gaiman, Dave Sim, Frank Miller, Grant Morrison — contributed stories to the series. There was a 1997 feature film, a 1997–1999 HBO animated series, and a wildly popular action figure. Love him or hate him, Spawn remains popular around the world; he's a phenomenon to be reckoned with.
Fun facts: The 1997 movie adaptation, directed and cowritten by Mark A.Z. Dippé, was one of the first films to feature an African American actor (Michael Jai White) portraying a major comic book superhero. Image remains the third largest comic publisher in North America, behind Marvel and DC; McFarlane Toys is one of the world's top action figure manufacturers. Jamie Foxx has signed up to play Spawn in a forthcoming feature, costarring Jeremy Renner and directed by McFarlane.
***
JOSH GLENN'S *BEST ADVENTURES* LISTS: BEST 250 ADVENTURES OF THE 20TH CENTURY | 100 BEST OUGHTS ADVENTURES | 100 BEST RADIUM AGE (PROTO-)SCI-FI ADVENTURES | 100 BEST TEENS ADVENTURES | 100 BEST TWENTIES ADVENTURES | 100 BEST THIRTIES ADVENTURES | 75 BEST GOLDEN AGE SCI-FI ADVENTURES | 100 BEST FORTIES ADVENTURES | 100 BEST FIFTIES ADVENTURES | 100 BEST SIXTIES ADVENTURES | 75 BEST NEW WAVE SCI FI ADVENTURES | 100 BEST SEVENTIES ADVENTURES | 100 BEST EIGHTIES ADVENTURES | 75 BEST DIAMOND AGE SCI-FI ADVENTURES | 100 BEST NINETIES ADVENTURES (in progress) | 1994 | 1995 | 1996 | 1997 | 1998 | 1999 | 2000 | 2001 | 2002 | 2003 | NOTES ON 21st-CENTURY ADVENTURES.