Best 1992 Adventures (9)
By: Joshua Glenn
June 19, 2020
One in a series of 10 posts identifying Josh Glenn's favorite 1992 adventure novels.
*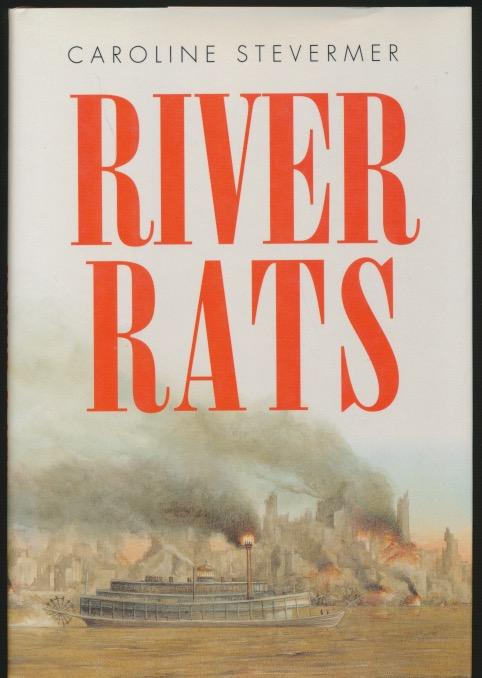 Caroline Stevermer's YA sci-fi adventure River Rats.
Like Emma Bull's Bone Dance (1991), this post-apocalyptic, Twain-inspired yarn is set in America's Upper Midwest region. Some years after the "Flash" and the epidemic that followed, a feral group of orphaned children — two girls, four boys — pilot a paddle wheeler up and down the Mississippi, delivering mail to settlements of survivors and performing punk rock shows. The river's water is poisonous; the cities along it — Minneapolis/St. Paul, LaCrosse, and everything between — are dangerous ruins. Tomcat, our narrator, is an amusing raconteur. When the Rats rescue a stranger, who is being pursued by a gang known as the Lesters, their precarious idyll is threatened; and when they embark on a quest for an underground vault full of guns, supplies, and other survivalist materiel, they run afoul of much more savage, destructive, amoral adolescents. Not as violent and dark as many post-apocalyptic YA books of the era, but still tense and thrilling. Stevermer does more showing than telling, which makes this a rewrding book to revisit — it's more complex than it seems. When Tomcat is ambushed by the Wild Boys, will he fight them? Or join them?
Fun facts: Named an ALA Best Book for Young Adults. The author is best known for her Cecelia and Kate historical fantasy novels, as well as her Galazon fantasy series, beginning with A College of Magics (1994).
***
JOSH GLENN'S *BEST ADVENTURES* LISTS: BEST 250 ADVENTURES OF THE 20TH CENTURY | 100 BEST OUGHTS ADVENTURES | 100 BEST RADIUM AGE (PROTO-)SCI-FI ADVENTURES | 100 BEST TEENS ADVENTURES | 100 BEST TWENTIES ADVENTURES | 100 BEST THIRTIES ADVENTURES | 75 BEST GOLDEN AGE SCI-FI ADVENTURES | 100 BEST FORTIES ADVENTURES | 100 BEST FIFTIES ADVENTURES | 100 BEST SIXTIES ADVENTURES | 75 BEST NEW WAVE SCI FI ADVENTURES | 100 BEST SEVENTIES ADVENTURES | 100 BEST EIGHTIES ADVENTURES | 75 BEST DIAMOND AGE SCI-FI ADVENTURES | 100 BEST NINETIES ADVENTURES (in progress) | 1994 | 1995 | 1996 | 1997 | 1998 | 1999 | 2000 | 2001 | 2002 | 2003 | NOTES ON 21st-CENTURY ADVENTURES.