Best 1992 Adventures (8)
By: Joshua Glenn
June 18, 2020
One in a series of 10 posts identifying Josh Glenn's favorite 1992 adventure novels.
*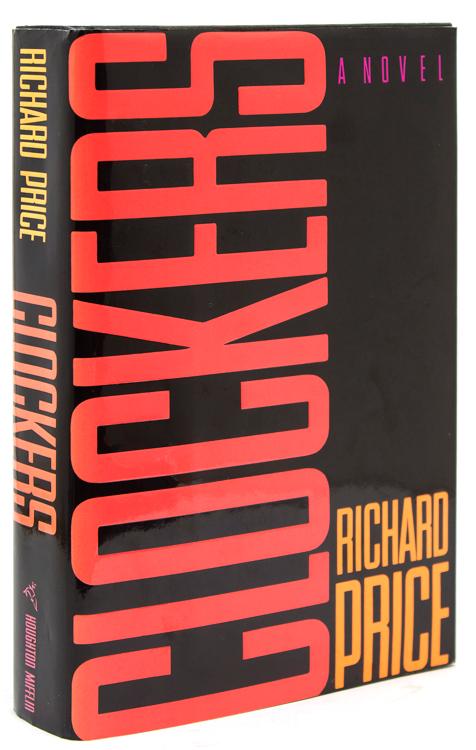 Richard Price's crime adventure Clockers.
An epic tale about a relatively straightforward incident, offering richly detailed portraits of Rocco Klein, a veteran homicide detective in a Jersey City-like fictional northeastern city and "Strike" Dunham, a 19-year-old mid-level crack dealer there. When Darryl, a resturant manager and crack-gang sub-lieutenant, is shot in the restaurant's parking lot, Strike's older brother Victor, a law-abiding father of two, confesses to the murder. Klein, who has no appetite for sending innocent men to jail, investigates; but can he get Strike to cooperate? (Strike inherits Darryl's position as second-in-command in their operation.) Rocco is a familiar stereotype — the jaded, brutal, but honest and empathetic cop. Strike, however, is a fascinating character: smart, paranoid about police and rival drug gangs, highly organized, frustrated with his crew of "clockers," beholden to his violent mentor/high-erup Rodney, prematurely ulcerous. Price offers a journalistic depiction of the crack trade: turf skirmishes, "cuts" tailored to different clientele, supply chain shenanigans, police payoffs. The fictional city — a post-apocalyptic wasteland — is itself a character.
Fun facts: Adapted in 1995 by Spike Lee (who co-wrote the screenplay with Price) as a movie starring Mekhi Phifer as Strike, and Harvey Keitel as Rocco. (Malik Sayeed's cinematography is outstanding.) Price would write episodes for David Simon's HBO show The Wire.
***
JOSH GLENN'S *BEST ADVENTURES* LISTS: BEST 250 ADVENTURES OF THE 20TH CENTURY | 100 BEST OUGHTS ADVENTURES | 100 BEST RADIUM AGE (PROTO-)SCI-FI ADVENTURES | 100 BEST TEENS ADVENTURES | 100 BEST TWENTIES ADVENTURES | 100 BEST THIRTIES ADVENTURES | 75 BEST GOLDEN AGE SCI-FI ADVENTURES | 100 BEST FORTIES ADVENTURES | 100 BEST FIFTIES ADVENTURES | 100 BEST SIXTIES ADVENTURES | 75 BEST NEW WAVE SCI FI ADVENTURES | 100 BEST SEVENTIES ADVENTURES | 100 BEST EIGHTIES ADVENTURES | 75 BEST DIAMOND AGE SCI-FI ADVENTURES | 100 BEST NINETIES ADVENTURES (in progress) | 1994 | 1995 | 1996 | 1997 | 1998 | 1999 | 2000 | 2001 | 2002 | 2003 | NOTES ON 21st-CENTURY ADVENTURES.