Best 1991 Adventures (9)
By: Joshua Glenn
May 29, 2020
One in a series of 10 posts identifying Josh Glenn's favorite 1991 adventure novels.
*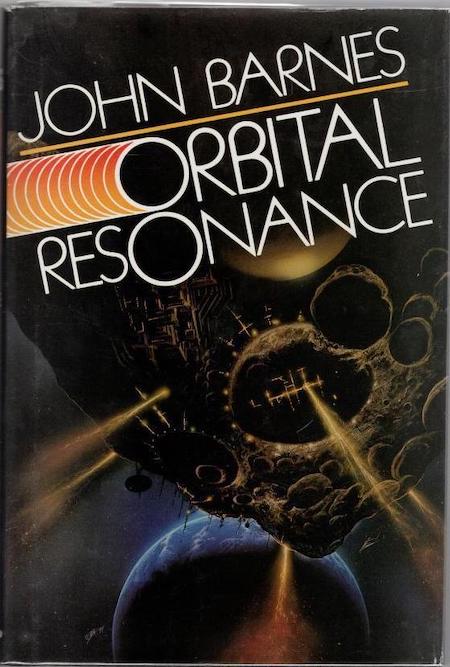 John Barnes's sci-fi adventure Orbital Resonance.
In the far future, after Earth's ecology has been all but destroyed, a generation of children is being raised on the Flying Dutchman, a colony built on an asteroid looping between Earth and Mars. Melpomene Murray, our 13-year-old protagonist, and her cohort have been trained — and, as Melpomene comes to realize, mentally conditioned — from birth, to lead mankind into the future. "Lead" might be the wrong word, however, since Melpomene's handlers, in their wisdom, have organized an adolescent social order in which young people won't and can't function on their own, outside of their highly cooperative groups. Unlike the kids in Ender's Game, that is to say, these young folks aren't hyper-competitive geniuses; instead, they seek consensus, rely entirely on one another, and prioritize the group's success of their own individual success. Even their sports games, like the variable-gravity, lacrosse-style activity called Aerocrosse, involves working together. The worst insult, in these kids' vocabulary, is "unco" — which stands for "uncooperative". So is this a utopia or a dystopia? Mel and her friends thoroughly enjoy their lives… until they're joined by a boy from Earth who has grown up with different values. The story ends abruptly, as series installments sometimes do, but it's a fun, provocative slice of life in the spirit of Heinlein's juveniles — though it's not actually written for a young audience.
Fun facts: Nominated for the Nebula Award. The following three books in the Century Next Door series are Kaleidoscope Century (1995), Candle (2000), The Sky So Big and Black (2002).
***
JOSH GLENN'S *BEST ADVENTURES* LISTS: BEST 250 ADVENTURES OF THE 20TH CENTURY | 100 BEST OUGHTS ADVENTURES | 100 BEST RADIUM AGE (PROTO-)SCI-FI ADVENTURES | 100 BEST TEENS ADVENTURES | 100 BEST TWENTIES ADVENTURES | 100 BEST THIRTIES ADVENTURES | 75 BEST GOLDEN AGE SCI-FI ADVENTURES | 100 BEST FORTIES ADVENTURES | 100 BEST FIFTIES ADVENTURES | 100 BEST SIXTIES ADVENTURES | 75 BEST NEW WAVE SCI FI ADVENTURES | 100 BEST SEVENTIES ADVENTURES | 100 BEST EIGHTIES ADVENTURES | 75 BEST DIAMOND AGE SCI-FI ADVENTURES | 100 BEST NINETIES ADVENTURES (in progress) | 1994 | 1995 | 1996 | 1997 | 1998 | 1999 | 2000 | 2001 | 2002 | 2003 | NOTES ON 21st-CENTURY ADVENTURES.