Best 1991 Adventures (5)
By: Joshua Glenn
May 25, 2020
One in a series of 10 posts identifying Josh Glenn's favorite 1991 adventure novels.
*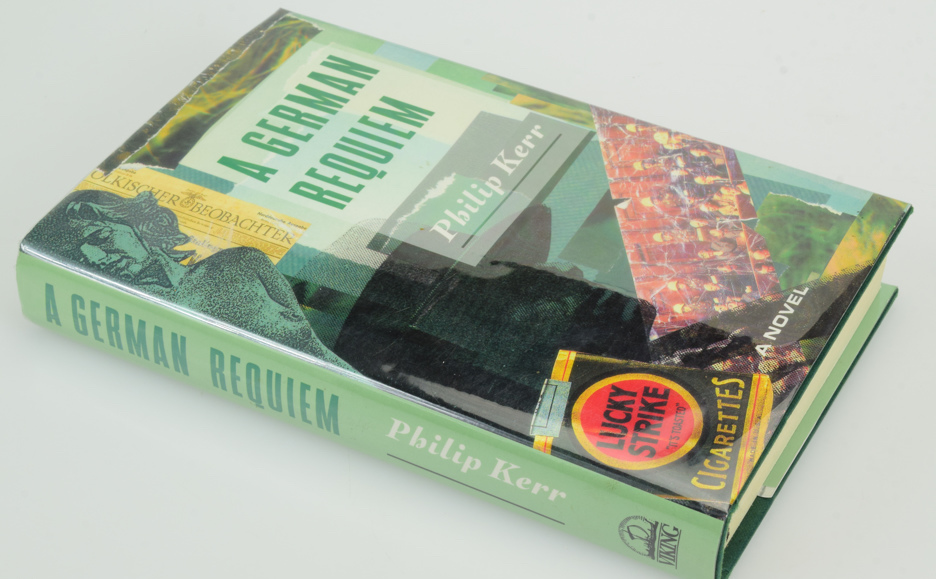 Philip Kerr's Berlin Noir historical crime adventure A German Requiem.
Released from a Soviet prison camp in 1947, private eye Bernie Gunther makes his way from Allied-occupied Berlin — where the Soviet Union has begun unilaterally implementing elements of a Marxist political-economic system — to Allied-occupied Vienna. He's there to investigate the murder of Linden, an American officer. Supposedly, he was killed by Emil Becker, a smuggler and former (dirty) Berlin police colleague of Gunther's; but a high-ranking Soviet secret police officer, Poroshin, tells Gunther that Becker was framed. In Vienna, Gunther encounters Traudl, a beautiful German Communist, and Veronika, a Czech Jewess; these are two of the more fully realized female characters in Kerr's trilogy. He's befriended by Belinsky, supposedly an American Counter-Intelligence Corps (CIC) agent who's also investigating Linden's death. When Gunther is recruited by the "Org" — a secret organization of former Nazis — he finds himself embroiled in a postwar political situation straight out of Graham Greene. Whose movie The Third Man is being directed, in Vienna, as the novel ends.
Fun facts: This is the final "Berlin Noir" trilogy installment. However, Kerr would write over 10 additional Bernie Gunther novels, including The One From the Other (2006), A Quiet Flame (2008), and If The Dead Rise Not (2009).
***
JOSH GLENN'S *BEST ADVENTURES* LISTS: BEST 250 ADVENTURES OF THE 20TH CENTURY | 100 BEST OUGHTS ADVENTURES | 100 BEST RADIUM AGE (PROTO-)SCI-FI ADVENTURES | 100 BEST TEENS ADVENTURES | 100 BEST TWENTIES ADVENTURES | 100 BEST THIRTIES ADVENTURES | 75 BEST GOLDEN AGE SCI-FI ADVENTURES | 100 BEST FORTIES ADVENTURES | 100 BEST FIFTIES ADVENTURES | 100 BEST SIXTIES ADVENTURES | 75 BEST NEW WAVE SCI FI ADVENTURES | 100 BEST SEVENTIES ADVENTURES | 100 BEST EIGHTIES ADVENTURES | 75 BEST DIAMOND AGE SCI-FI ADVENTURES | 100 BEST NINETIES ADVENTURES (in progress) | 1994 | 1995 | 1996 | 1997 | 1998 | 1999 | 2000 | 2001 | 2002 | 2003 | NOTES ON 21st-CENTURY ADVENTURES.