Best 1990 Adventures (9)
By: Joshua Glenn
May 8, 2020
One in a series of 10 posts identifying Josh Glenn's favorite 1990 adventure novels.
*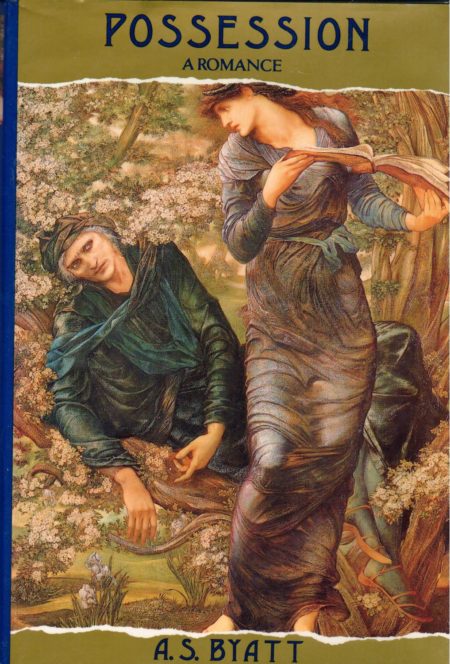 A.S. Byatt's treasure-hunt adventure Possession: A Romance.
Roland Michell, a junior literary scholar dedicated to the life and work of the already much-dissected (fictional) Victorian poet R.H. Ash, is frustrated in his career; when he finds a letter from Ash to the (fictional) poet Christabel LaMotte, he decides to track down the details of their relationship without informing his employer, an Ash expert in whose cavernous archives Roland toils. The trail leads him to Maud Bailey, a feminist literary scholar and guardian of LaMotte's letters and journals. Roland runs hot, Maud is chilly and reserved. The two are soon traipsing around England in search of further evidence that Ash and LaMotte may have been more than just literary friends. Interspersed with the Roland/Maud chapters are transcriptions of Ash and LaMotte's poems, letters, and journal entries — a bravura effort on Byatt's part (there are over 1,700 lines of period poetry, in two different styles), which readers who are just in it for the romance often find frustrating. However, while this is certainly a romance — two romances, really — it's also a literary mystery, a campus novel of sorts, and a treasure hunt whose dramatic conclusion involves a grave robbery on a stormy night. Clues are to be found in those poems, letters, and journals, so readers should read them! Byatt's prose is erudite, supple, and gorgeous.
Fun facts: The poet Ash's life and work are loosely based on Browning and/or Tennyson; LaMotte's are loosely based on Christina Rossetti. Possession, a bestseller which won the Booker Prize, and which has been named one of the best English-language novels of the 20th century, was adapted in 2002 as an OK movie starring Gwyneth Paltrow and Aaron Eckhart.
***
JOSH GLENN'S *BEST ADVENTURES* LISTS: BEST 250 ADVENTURES OF THE 20TH CENTURY | 100 BEST OUGHTS ADVENTURES | 100 BEST RADIUM AGE (PROTO-)SCI-FI ADVENTURES | 100 BEST TEENS ADVENTURES | 100 BEST TWENTIES ADVENTURES | 100 BEST THIRTIES ADVENTURES | 75 BEST GOLDEN AGE SCI-FI ADVENTURES | 100 BEST FORTIES ADVENTURES | 100 BEST FIFTIES ADVENTURES | 100 BEST SIXTIES ADVENTURES | 75 BEST NEW WAVE SCI FI ADVENTURES | 100 BEST SEVENTIES ADVENTURES | 100 BEST EIGHTIES ADVENTURES | 75 BEST DIAMOND AGE SCI-FI ADVENTURES | 100 BEST NINETIES ADVENTURES (in progress) | 1994 | 1995 | 1996 | 1997 | 1998 | 1999 | 2000 | 2001 | 2002 | 2003 | NOTES ON 21st-CENTURY ADVENTURES.