Best 1990 Adventures (5)
By: Joshua Glenn
May 4, 2020
One in a series of 10 posts identifying Josh Glenn's favorite 1990 adventure novels.
*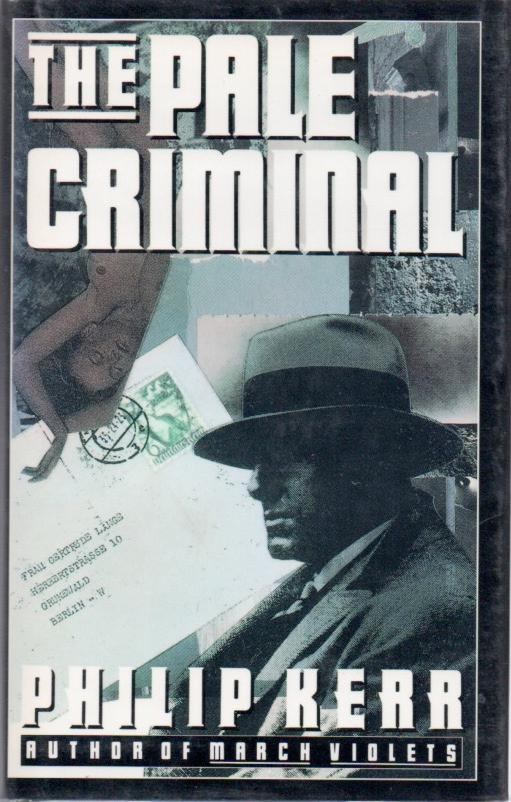 Philip Kerr's Berlin noir historical crime adventure The Pale Criminal.
In his second appearance, hardboiled private investigator Bernie Gunther is blackmailed by the Kripo — the Berlin criminal police — into rejoining their ranks and leading the investigation of a series of vicious crimes. (Teenage girls — "Aryan" types — are being raped and murdered. It's a grisly story.) It's the summer of 1938, and Gunther's fellow countrymen wonder whether Hitler will plunge Europe into another war; meanwhile, Gunther seeks to avenge his partner, Bruno Stahlecker, who has been killed while investigating another blackmailing case. As per usual with Kerr, the period detail is impressive — overwhelming, at times. Gunther is a "good" German, inasmuch as he hates the Nazis. However, he's homophobic, misogynistic, and lecherous; he's not a sympathetic character. A brutal man navigates a brutalizing social order, investigating a brutal crime. The trail leads to Julius Streicher, Nazi mob boss and publisher of the sensationalist newspaper Der Stürmer, which seems to know too much about the killings — which Streicher is eager to pin on supposedly sinister Jews. Homosexuality, drug addiction, psychotherapy, and spiritualism play a role in the plot of this short, disturbing mystery.
Fun facts: The story takes place between August 26th and November 10th — that is, between the negotiations (and appeasement, on the part of the main European powers) that resulted in Germany's annexation of the Sudetenland, and Kristallnacht, a pogrom against Jews carried out by the Nazi Party's paramilitary forces and civilians throughout Germany.
***
JOSH GLENN'S *BEST ADVENTURES* LISTS: BEST 250 ADVENTURES OF THE 20TH CENTURY | 100 BEST OUGHTS ADVENTURES | 100 BEST RADIUM AGE (PROTO-)SCI-FI ADVENTURES | 100 BEST TEENS ADVENTURES | 100 BEST TWENTIES ADVENTURES | 100 BEST THIRTIES ADVENTURES | 75 BEST GOLDEN AGE SCI-FI ADVENTURES | 100 BEST FORTIES ADVENTURES | 100 BEST FIFTIES ADVENTURES | 100 BEST SIXTIES ADVENTURES | 75 BEST NEW WAVE SCI FI ADVENTURES | 100 BEST SEVENTIES ADVENTURES | 100 BEST EIGHTIES ADVENTURES | 75 BEST DIAMOND AGE SCI-FI ADVENTURES | 100 BEST NINETIES ADVENTURES (in progress) | 1994 | 1995 | 1996 | 1997 | 1998 | 1999 | 2000 | 2001 | 2002 | 2003 | NOTES ON 21st-CENTURY ADVENTURES.