Best 1990 Adventures (1)
By: Joshua Glenn
April 27, 2020
One in a series of 10 posts identifying Josh Glenn's favorite 1990 adventure novels.
*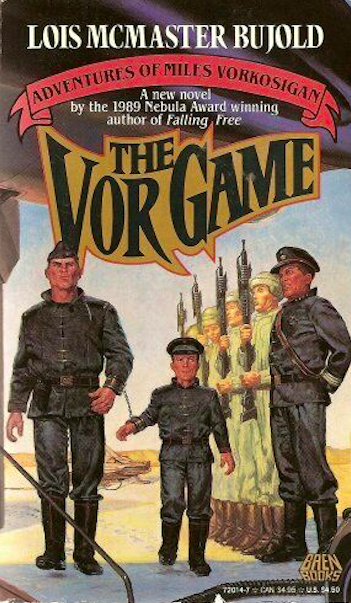 Lois McMaster Bujold's Diamond Age sci-fi adventure The Vor Game.
The sixth installment in the Vorkosigan Saga (1986–ongoing) is a fun one. Miles Vorkosigan, the protagonist of most of the series, is the brilliant, driven scion of an aristocratic family from the feudalistic, swords'n'spaceships planet of Barrayar; he is disadvantaged in his abitions because his mother is a Betan (she hails from a technology-rich, egalitarian galactic society), and because he is a dwarf. In a previous series installment, The Warrior's Apprentice (1986), Miles manages to get himself accepted into the Barrayaran Imperial Military Service, after a brief career as "Admiral Naismith," the swashbuckling leader of a mercenary space fleet. Here, shortly after graduating from the academy, Miles is assigned to a winter infantry training post, where he runs afoul of the tyrannical base commander. Charged with mutiny, he is recruited to work for Barrayaran Covert Ops, and winds up in a prison cell with Barrayar's young emperor, Gregor, who had sneaked away from his palace. Worse, a Cetagandan invasion fleet — Cetaganda has staged several unsuccessful wars against Barrayar, in previous Vorkosigan books — may be en route towards the space station where they're imprisoned. In order to repel the attack, Miles must outwit a femme fatale (herself a mercenary leader), his former commanding officer, and reconnect with his mercenary friends.
Fun facts: Bujold has stated that the Vorkosigan Saga's structure is modeled after the Horatio Hornblower books. The first several chapters of The Vor Game were originally published in a slightly different form as "The Weatherman" in the February 1990 issue of Analog. The Vor Game won the 1991 Hugo Award for Best Novel.
***
JOSH GLENN'S *BEST ADVENTURES* LISTS: BEST 250 ADVENTURES OF THE 20TH CENTURY | 100 BEST OUGHTS ADVENTURES | 100 BEST RADIUM AGE (PROTO-)SCI-FI ADVENTURES | 100 BEST TEENS ADVENTURES | 100 BEST TWENTIES ADVENTURES | 100 BEST THIRTIES ADVENTURES | 75 BEST GOLDEN AGE SCI-FI ADVENTURES | 100 BEST FORTIES ADVENTURES | 100 BEST FIFTIES ADVENTURES | 100 BEST SIXTIES ADVENTURES | 75 BEST NEW WAVE SCI FI ADVENTURES | 100 BEST SEVENTIES ADVENTURES | 100 BEST EIGHTIES ADVENTURES | 75 BEST DIAMOND AGE SCI-FI ADVENTURES | 100 BEST NINETIES ADVENTURES (in progress) | 1994 | 1995 | 1996 | 1997 | 1998 | 1999 | 2000 | 2001 | 2002 | 2003 | NOTES ON 21st-CENTURY ADVENTURES.