Best 1989 Adventures (8)
By: Joshua Glenn
April 22, 2020
One in a series of 10 posts identifying Josh Glenn's favorite 1989 adventure novels.
*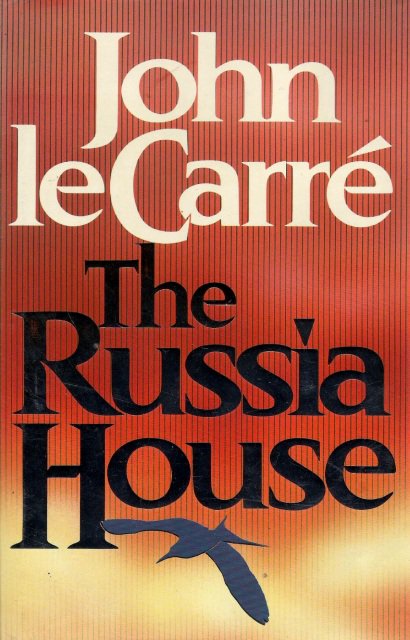 John le Carré's espionage adventure The Russia House.
Written during Perestroika — the political movement for reformation within Mikhail Gorbachev's Communist Party, which would lead to the revolutions of 1989 and the dissolution of the Soviet Union — The Russia House would have us understand that the Cold War, by that point, was sustained by intelligence agencies, the military, and the military–industrial complex, none of whom could afford to admit that the Soviet Union was no longer a threat. Our protagonist, "Barley" Blair, a British publisher, musician, and bon vivant, is contacted by a beautiful Russian woman, Katya; her friend, Yakov, wishes Barley to publish a manuscript detailing Soviet nuclear capabilities and atomic secrets. When the MS ends up at the Russian House — that is, the MI6 section devoted to spying on the Soviet Union — Barley is manipulated into acting as a go-between. The Russia House wants to know more about the source of this intel; Barley, however, falls for the widowed Katya and her kids, and wants to smuggle them out. The CIA and MI6 help Barley set up a meeting with Yakov's KGB captors/handlers — nobody can be sure — but Barley and Katya have other plans. "The old isms were dead, the contest between Communism and capitalism had ended in a wet whimper. Its rhetoric had fled underground into the secret chambers of the grey men, who were still dancing away long after the music had ended."
Fun facts: A 1990 adaptation, directed by Fred Schepisi, starred Sean Connery and Michelle Pfeiffer. Not the greatest movie, but notable for its score — Russian music and jazz — by Jerry Goldsmith, and because it was one of the first western films to be shot on location in the Soviet Union.
***
JOSH GLENN'S *BEST ADVENTURES* LISTS: BEST 250 ADVENTURES OF THE 20TH CENTURY | 100 BEST OUGHTS ADVENTURES | 100 BEST RADIUM AGE (PROTO-)SCI-FI ADVENTURES | 100 BEST TEENS ADVENTURES | 100 BEST TWENTIES ADVENTURES | 100 BEST THIRTIES ADVENTURES | 75 BEST GOLDEN AGE SCI-FI ADVENTURES | 100 BEST FORTIES ADVENTURES | 100 BEST FIFTIES ADVENTURES | 100 BEST SIXTIES ADVENTURES | 75 BEST NEW WAVE SCI FI ADVENTURES | 100 BEST SEVENTIES ADVENTURES | 100 BEST EIGHTIES ADVENTURES | 75 BEST DIAMOND AGE SCI-FI ADVENTURES | 100 BEST NINETIES ADVENTURES (in progress) | 1994 | 1995 | 1996 | 1997 | 1998 | 1999 | 2000 | 2001 | 2002 | 2003 | NOTES ON 21st-CENTURY ADVENTURES.