Best 1989 Adventures (6)
By: Joshua Glenn
April 20, 2020
One in a series of 10 posts identifying Josh Glenn's favorite 1989 adventure novels.
*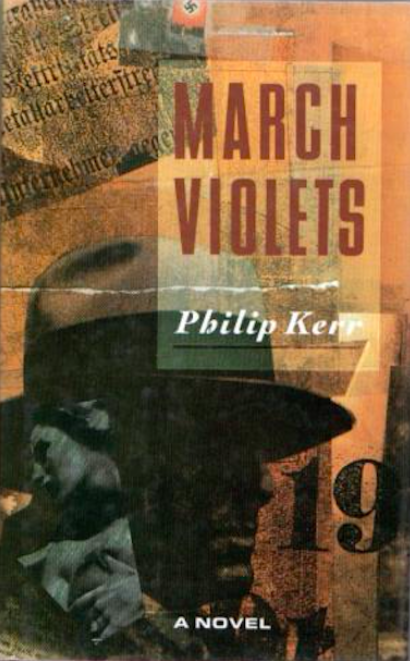 Philip Kerr's Berlin Noir historical crime adventure March Violets.
Three years after Germany's Reichstag Fire Decree and Enabling Act abolished most civil liberties and transformed Hitler's government into a legal dictatorship, ex-Berlin cop and Army vet turned private eye Bernie Gunther is hired by a steel magnate to find a diamond necklace stolen from his murdered daughter. The assignment forces the cynical Gunther to confront corruption among the Third Reich's civil servants, the Nazis' everyday violence and anti-Semitism, and the opportunism of the Nazi "March violets" more interested in profit than ideology. As the city's most offensive aspects are temporarily sanitized for spectators arriving for the '36 Olympic Games, our neo-noir protagonist traverses seedy dives and opulent mansions, trying without much success to stay out of political hot water. Protected only by his native wit and WWI medal, Gunther runs afoul of police, Gestapo, gangsters, and government officials. There's an aristocrat collecting blackmail material on important personalities for Hermann Göring, a safecracker, a corrupt anti-corruption official, and — in the best noir tradition — a shocking family secret, and a sexy assistant. When Gunther is sent to the Dachau concentration camp, will he assist a Gestapo investigation in order to save his own neck?
Fun facts: Shout-out to HILOBROW friend Tony Leone, who recommended these books to me. The second installment in the trilogy is The Pale Criminal (1990); the third is A German Requiem (1991).
***
JOSH GLENN'S *BEST ADVENTURES* LISTS: BEST 250 ADVENTURES OF THE 20TH CENTURY | 100 BEST OUGHTS ADVENTURES | 100 BEST RADIUM AGE (PROTO-)SCI-FI ADVENTURES | 100 BEST TEENS ADVENTURES | 100 BEST TWENTIES ADVENTURES | 100 BEST THIRTIES ADVENTURES | 75 BEST GOLDEN AGE SCI-FI ADVENTURES | 100 BEST FORTIES ADVENTURES | 100 BEST FIFTIES ADVENTURES | 100 BEST SIXTIES ADVENTURES | 75 BEST NEW WAVE SCI FI ADVENTURES | 100 BEST SEVENTIES ADVENTURES | 100 BEST EIGHTIES ADVENTURES | 75 BEST DIAMOND AGE SCI-FI ADVENTURES | 100 BEST NINETIES ADVENTURES (in progress) | 1994 | 1995 | 1996 | 1997 | 1998 | 1999 | 2000 | 2001 | 2002 | 2003 | NOTES ON 21st-CENTURY ADVENTURES.