Best 1989 Adventures (3)
By: Joshua Glenn
April 14, 2020
One in a series of 10 posts identifying Josh Glenn's favorite 1989 adventure novels.
*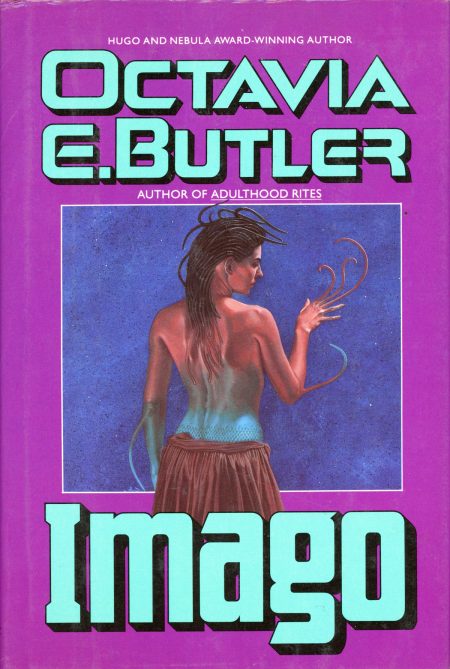 Octavia E. Butler's Xenogenesis sci-fi adventure Imago.
In the final installment in Butler's Xenogenesis trilogy, the future of not only Earth's surviving humans but their alien captors/saviors, the tentacled Oankali, is at stake; can Jodahs, a half-human, half-Oankali ooloi (a genderless figure, who makes satisfying sexual relations between men and women — whether Oankali, modified human, or hybrid — possible) mature successfully into its adult form? Concerned that our protagonist will inadvertently contaminate them before it learns to control its genetic manipulation abilities, the Oankali send Jodahs to live in the woods. Here, we finally discover that the seemingly unemotional, almost clinical alien invaders need and long for (emotionally, sexually) relationships with humans. In fact, Oankali and modified humans alike can't stand to touch members of the opposite sex without the mediation of an ooloi; and this mediation becomes addictive, for Jodahs, who experiences its exile as torment. Jodahs is also tortured by its inability to fit into any group — so when it encounters two human siblings, Jesusa and Tomas, it forms a new family unit. The book is erotic without being explicit, and despite one's horror/revulsion at this post/evolved-human state of affairs, we care enough about the characters and their struggles to root for everything to work out. Will Earth's humans, in the end, be as accepting of the Oankali as we are?
Fun facts: As in the first two Xenogenesis books (1987's Dawn and 1988's Adulthood Rites), Butler asks us to grapple with unsettling issues of consent, coercion, and enslavement. Some readers find this book too philosophical; others think it's the best of the trilogy.
***
JOSH GLENN'S *BEST ADVENTURES* LISTS: BEST 250 ADVENTURES OF THE 20TH CENTURY | 100 BEST OUGHTS ADVENTURES | 100 BEST RADIUM AGE (PROTO-)SCI-FI ADVENTURES | 100 BEST TEENS ADVENTURES | 100 BEST TWENTIES ADVENTURES | 100 BEST THIRTIES ADVENTURES | 75 BEST GOLDEN AGE SCI-FI ADVENTURES | 100 BEST FORTIES ADVENTURES | 100 BEST FIFTIES ADVENTURES | 100 BEST SIXTIES ADVENTURES | 75 BEST NEW WAVE SCI FI ADVENTURES | 100 BEST SEVENTIES ADVENTURES | 100 BEST EIGHTIES ADVENTURES | 75 BEST DIAMOND AGE SCI-FI ADVENTURES | 100 BEST NINETIES ADVENTURES (in progress) | 1994 | 1995 | 1996 | 1997 | 1998 | 1999 | 2000 | 2001 | 2002 | 2003 | NOTES ON 21st-CENTURY ADVENTURES.