Best 1989 Adventures (2)
By: Joshua Glenn
April 11, 2020
One in a series of 10 posts identifying Josh Glenn's favorite 1989 adventure novels.
*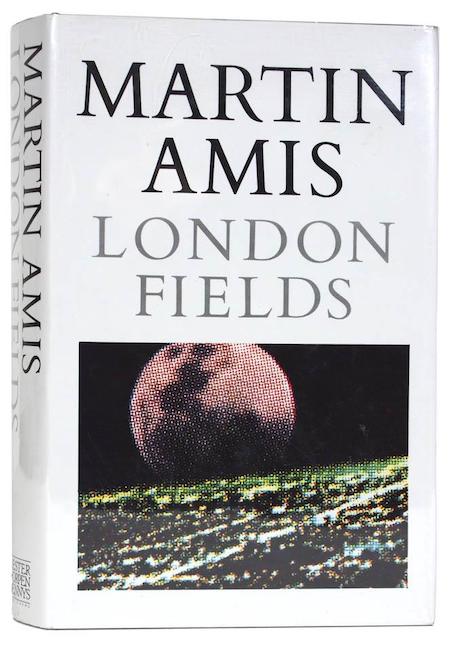 Martin Amis's apophenic crime adventure London Fields.
When Samson Young, an uncreative and dying New York writer, moves into the posh London apartment of a famous British author (whose initials happen to be the same as Martin Amis's), he discovers the diaries of Nicola Six. Nicola, a femme fatale who hopes to die before she gets old, claims she's manipulating two married men — Keith Talent, a Cockney hooligan obsessed with pornography and darts; and Guy Clinch, a yuppie who can't resist a sob story — into murdering her. She's set the date; the countdown has begun. The year is 1999, which sort of makes this a sci-fi tale — and indeed, in the background of this brilliant, tedious, hilarious, exasperating story lurks some kind of atomic disaster which threatens to destabilize the planet. But our focus, here, is very local. Nicola, Keith, and Guy inhabit the same gentrifying neighborhood; Samson ends up coming into contact with each of them… and manipulating their story, in order to finally write a novel. Or is he being manipulated? Long, ambitious, misanthropic, and hard to put down. Perhaps the most remarkable character is a destructive toddler. PS: This is the only Amis novel to include every one of the author's tropes, according to a 2019 Guardian essay: "Apocalypse, authorial intrusion, [a character named] Keith, sex, time, twins, yobs (jackpot!)"
Fun facts: Adapted as a 2018 movie directed by Mathew Cullen, and starring Billy Bob Thornton, Amber Heard, Jim Sturgess, and Theo James. "Novelistic, rich and awfully silly," opined The Guardian, "[Cullen's] London Fields – like Ben Wheatley's take on High Rise – is a long-awaited adaptation of a popular and gloomily prophetic book, that seems unnecessary."
***
JOSH GLENN'S *BEST ADVENTURES* LISTS: BEST 250 ADVENTURES OF THE 20TH CENTURY | 100 BEST OUGHTS ADVENTURES | 100 BEST RADIUM AGE (PROTO-)SCI-FI ADVENTURES | 100 BEST TEENS ADVENTURES | 100 BEST TWENTIES ADVENTURES | 100 BEST THIRTIES ADVENTURES | 75 BEST GOLDEN AGE SCI-FI ADVENTURES | 100 BEST FORTIES ADVENTURES | 100 BEST FIFTIES ADVENTURES | 100 BEST SIXTIES ADVENTURES | 75 BEST NEW WAVE SCI FI ADVENTURES | 100 BEST SEVENTIES ADVENTURES | 100 BEST EIGHTIES ADVENTURES | 75 BEST DIAMOND AGE SCI-FI ADVENTURES | 100 BEST NINETIES ADVENTURES (in progress) | 1994 | 1995 | 1996 | 1997 | 1998 | 1999 | 2000 | 2001 | 2002 | 2003 | NOTES ON 21st-CENTURY ADVENTURES.