Best 1988 Adventures (6)
By: Joshua Glenn
March 24, 2020
One in a series of 10 posts identifying Josh Glenn's favorite 1988 adventure novels.
*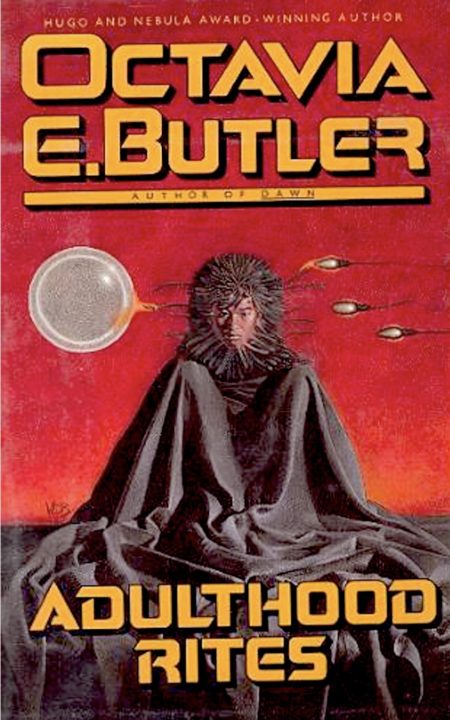 Octavia E. Butler's Xenogenesis adventure Adulthood Rites (1988).
Thirty years after the events of Dawn (1987), the population of Earth is divided into communities of Oankali (a seemingly benign, tentacled alien species that travels through the universe seeking partner species with whom to "trade" their own genes) and their half-human, half-Oankali offspring, and sterilized human resisters. Akin, the half-Oankali son of Lilith Iyapo, ambivalent protagonist of Dawn, is raised by five parents representing three genders — the Oankali "third sex" is known as the ooloi — and two species. Captured by human resisters, because (for the moment) he looks fully human, Akin finds them as horrifying and as compelling as his mother found the Oankali; for the first time, he finds value in his human side, and learns the value of preserving human culture. (Progressive types are often counseled to try to understand Make America Great Again types, and in large part that is the theme of this book.) Later, Akin becomes an emissary traveling back and forth between Oankali/hybrid and resister villages — and advocates for the resisters to have their fertility restored and to be sent to a terraformed Mars to form their own civilization. But will humankind always self-destruct, if left to their own devices? And will the resisters continue to accept Akin's assistance once he begins to metamorphose into an adult?
Fun facts: This is the second installment in Butler's Xenogenesis trilogy; it is followed by Imago (1989). Nominated for the Locus Award for Best Science Fiction Novel.
***
JOSH GLENN'S *BEST ADVENTURES* LISTS: BEST 250 ADVENTURES OF THE 20TH CENTURY | 100 BEST OUGHTS ADVENTURES | 100 BEST RADIUM AGE (PROTO-)SCI-FI ADVENTURES | 100 BEST TEENS ADVENTURES | 100 BEST TWENTIES ADVENTURES | 100 BEST THIRTIES ADVENTURES | 75 BEST GOLDEN AGE SCI-FI ADVENTURES | 100 BEST FORTIES ADVENTURES | 100 BEST FIFTIES ADVENTURES | 100 BEST SIXTIES ADVENTURES | 75 BEST NEW WAVE SCI FI ADVENTURES | 100 BEST SEVENTIES ADVENTURES | 100 BEST EIGHTIES ADVENTURES | 75 BEST DIAMOND AGE SCI-FI ADVENTURES | 100 BEST NINETIES ADVENTURES (in progress) | 1994 | 1995 | 1996 | 1997 | 1998 | 1999 | 2000 | 2001 | 2002 | 2003 | NOTES ON 21st-CENTURY ADVENTURES.