Best 1988 Adventures (5)
By: Joshua Glenn
March 23, 2020
One in a series of 10 posts identifying Josh Glenn's favorite 1988 adventure novels.
*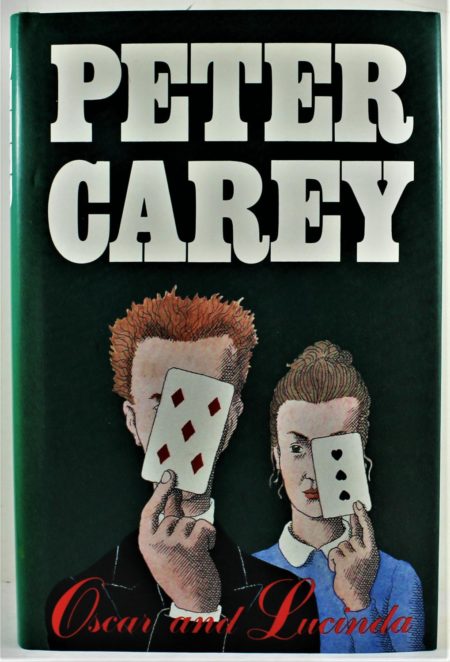 Peter Carey's frontier adventure Oscar and Lucinda.
Oscar, a Englishman raised in a fundamentalist sect, becomes obsessive about gambling while at Oxford, then sets out to become a missionary in New South Wales (Australia). Lucinda, an ambitious Australian heiress and compulsive gambler, inherits a glassworks in her native land. The two meet on board a ship headed for Australia; it's the mid-19th century. After Oscar is kicked out of his vicarage for gambling, he moves in with Lucinda… who bets him that he cannot transport the glass factory from Sydney to a remote settlement hundreds of miles away, then build a church entirely of glass there. This is the "adventure" part of Oscar and Lucinda. It's an exotic travelogue, in an astonishing landscape; and it's a strange, compassionate, funny, tragic (love?) story about two intersecting lives. Neither of our eccentric protagonists is particularly sympathetic, though from our perspective we can appreciate their instinctive desire to break from social strictures and structures. Oscar makes some bad decisions; things don't end as happily and neatly as we might like them to. It's a terrific read!
Fun facts: Winner of the Booker Prize. The film adaptation, directed by Gillian Armstrong and starring Ralph Fiennes, Cate Blanchett, and Tom Wilkinson, was released in 1997. "The thing about Oscar And Lucinda is, it's not a genre book," says Charlie Jane Anders. "There's nothing in it that isn't explainable through realism. There's nothing in it that's speculative. But at the same time, it is a book in which science is incredibly important. Also, there is a lot of magic realism happening on the edges."
***
JOSH GLENN'S *BEST ADVENTURES* LISTS: BEST 250 ADVENTURES OF THE 20TH CENTURY | 100 BEST OUGHTS ADVENTURES | 100 BEST RADIUM AGE (PROTO-)SCI-FI ADVENTURES | 100 BEST TEENS ADVENTURES | 100 BEST TWENTIES ADVENTURES | 100 BEST THIRTIES ADVENTURES | 75 BEST GOLDEN AGE SCI-FI ADVENTURES | 100 BEST FORTIES ADVENTURES | 100 BEST FIFTIES ADVENTURES | 100 BEST SIXTIES ADVENTURES | 75 BEST NEW WAVE SCI FI ADVENTURES | 100 BEST SEVENTIES ADVENTURES | 100 BEST EIGHTIES ADVENTURES | 75 BEST DIAMOND AGE SCI-FI ADVENTURES | 100 BEST NINETIES ADVENTURES (in progress) | 1994 | 1995 | 1996 | 1997 | 1998 | 1999 | 2000 | 2001 | 2002 | 2003 | NOTES ON 21st-CENTURY ADVENTURES.