Best 1988 Adventures (3)
By: Joshua Glenn
March 19, 2020
One in a series of 10 posts identifying Josh Glenn's favorite 1988 adventure novels.
*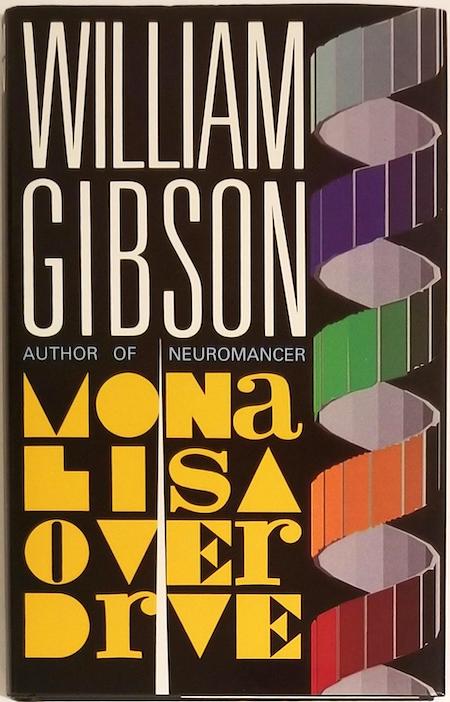 William Gibson's Sprawl sci-fi adventure Mona Lisa Overdrive.
Eight years after the events of 1986's Count Zero: Kumiko, the adolescent daughter of a Yakuza boss, hides out in London with "Sally Shears" (Molly Millions, the knife-fingered mercenary from 1984's Neuromancer), not to mention a biosoft apparatus that presents as a British child (and which can only be seen by Kumiko); Angie Mitchell (from Count Zero) struggles in the aftermath of a breakdown caused by her Simstim fame, and seeks her missing boyfriend; Mona, an amateur teen prostitute pimped by her nasty boyfriend, is caught up in a crime organization's attempt to abduct her celebrity lookalike; and the comatose body of Bobby Newmark (the titular protagonist of Count Zero) is cared for by Slick Henry, a Mark Pauline-esque junkyard-dwelling giant-robot artist and car thief who suffers from blackouts. Molly and Angie are the motivating forces, here: they're looking to force a confrontation and settle the turmoil unleashed by the events of the previous books. Bobby, meanwhile, has become addicted to an Aleph, a Borgesian super-capacity cyber-harddrive that is, essentially, a self-contained world. Will Angie regain the ability to access cyberspace directly, via the biosofts implanted in her head by her father? What is Continuity — the AI that is the most important decision-maker for Sense/Net, Angie's production company — up to? Will Bobby wake up?
Fun facts: Steven Poole wrote in The Guardian that "Neuromancer and the two novels which followed, Count Zero and the gorgeously titled Mona Lisa Overdrive, made up a fertile holy trinity, a sort of Chrome Koran (the name of one of Gibson's future rock bands) of ideas inviting endless reworkings."
***
JOSH GLENN'S *BEST ADVENTURES* LISTS: BEST 250 ADVENTURES OF THE 20TH CENTURY | 100 BEST OUGHTS ADVENTURES | 100 BEST RADIUM AGE (PROTO-)SCI-FI ADVENTURES | 100 BEST TEENS ADVENTURES | 100 BEST TWENTIES ADVENTURES | 100 BEST THIRTIES ADVENTURES | 75 BEST GOLDEN AGE SCI-FI ADVENTURES | 100 BEST FORTIES ADVENTURES | 100 BEST FIFTIES ADVENTURES | 100 BEST SIXTIES ADVENTURES | 75 BEST NEW WAVE SCI FI ADVENTURES | 100 BEST SEVENTIES ADVENTURES | 100 BEST EIGHTIES ADVENTURES | 75 BEST DIAMOND AGE SCI-FI ADVENTURES | 100 BEST NINETIES ADVENTURES (in progress) | 1994 | 1995 | 1996 | 1997 | 1998 | 1999 | 2000 | 2001 | 2002 | 2003 | NOTES ON 21st-CENTURY ADVENTURES.