Best 1987 Adventures (10)
By: Joshua Glenn
March 11, 2020
One in a series of 10 posts identifying Josh Glenn's favorite 1987 adventure novels.
*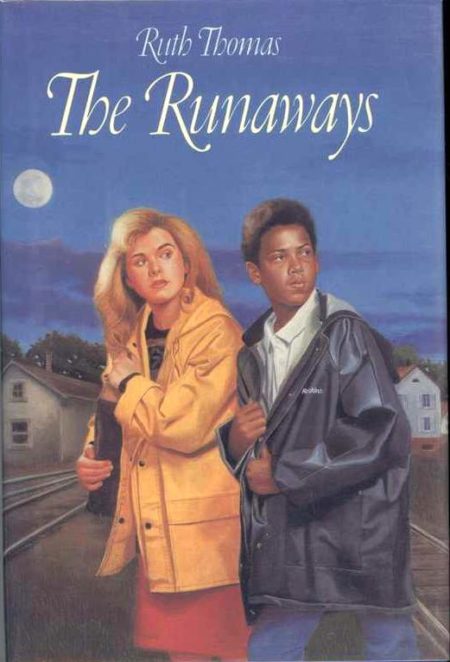 Ruth Thomas's hunted-man adventure The Runaways
Julia and Nathan, eleven-year-old Londoners with problems at home, are bullies at school. Although they dislike one another, when they cut school and discover a large amount of cash, they're forced to forge an alliance of sorts. Initially, they attempt to use the money to make themselves popular in school, but when their teachers and parents become suspicious, they take it on the lam. Which makes matters worse — life on the run is much harder than they'd imagined. In the course of their struggle to survive in the English countryside (and evade the police), the two learn to fend for themselves, live by their wits; and they forge a unique friendship. "I made my central characters a boy and a girl, one black and one white, not just because I was aware from my own experience of how great was the need for stories with which black children could identify, but also to start them off as different from each other as they could possibly be," Thomas would explain. "Then they could discover for themselves their common humanity."
Fun facts: Winner of the Guardian Children's Fiction Award. Ruth Thomas, who also wrote The New Boy (1989), The Secret (1990), Guilty (1993) and Hideaway (1994), was a former teacher who set The Runaways around her northwest London home in Kensal Green, and in the area near her childhood home in Somerset.
***
JOSH GLENN'S *BEST ADVENTURES* LISTS: BEST 250 ADVENTURES OF THE 20TH CENTURY | 100 BEST OUGHTS ADVENTURES | 100 BEST RADIUM AGE (PROTO-)SCI-FI ADVENTURES | 100 BEST TEENS ADVENTURES | 100 BEST TWENTIES ADVENTURES | 100 BEST THIRTIES ADVENTURES | 75 BEST GOLDEN AGE SCI-FI ADVENTURES | 100 BEST FORTIES ADVENTURES | 100 BEST FIFTIES ADVENTURES | 100 BEST SIXTIES ADVENTURES | 75 BEST NEW WAVE SCI FI ADVENTURES | 100 BEST SEVENTIES ADVENTURES | 100 BEST EIGHTIES ADVENTURES | 75 BEST DIAMOND AGE SCI-FI ADVENTURES | 100 BEST NINETIES ADVENTURES (in progress) | 1994 | 1995 | 1996 | 1997 | 1998 | 1999 | 2000 | 2001 | 2002 | 2003 | NOTES ON 21st-CENTURY ADVENTURES.