Best 1987 Adventures (6)
By: Joshua Glenn
March 7, 2020
One in a series of 10 posts identifying Josh Glenn's favorite 1987 adventure novels.
*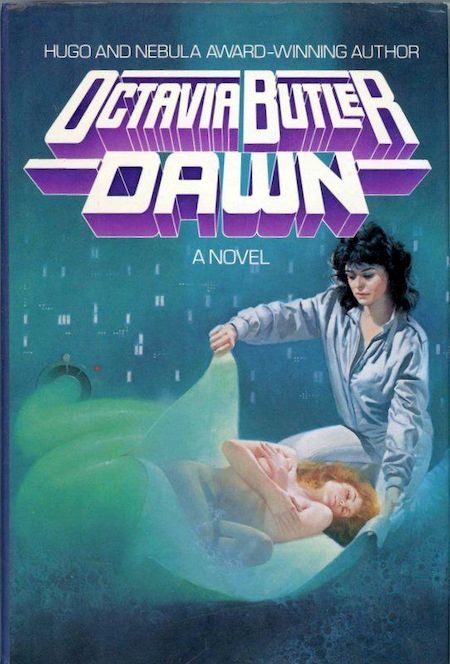 Octavia E. Butler's Xenogenesis sci-fi adventure Dawn.
The first installment in Butler's Xenogenesis trilogy (also known, collectively, as Lilith's Brood) begins with the reawakening of Lilith Iyapo, a young black woman who was abducted from a post-apocalyptic Earth by an alien race, the Oankali… 250 years ago. The Oankali, who possess the ability to interbreed with any humanoid species, travel the galaxy doing so; they manipulate the genes of their offspring as needed to allow these new species to thrive in particular environments. The nearly extinct humankind has obviously failed, they inform Lilith… so why doesn't she help them oversee a program of breeding little tentacled Oankali/human babies? Lilith is caught between a rock and a hard place: her fellow human survivors have a tendency to be xenophobic, violent, and misogynistic; while the Oankali are peaceful and reasonable… yet they view humans as an inferior species, without inherent rights. If it sounds to you as though Butler is exploring themes of sexuality, gender, race, and species in a nuanced, complex fashion, you're right; she's also recapitulating not only the story of African slaves in America, but the story of their descendants' struggle, as well. Lilith is a strong character, yet within the context of Oankali imperialism, she lacks agency. Like Butler's other black female characters, she refuses to capitulate to either/or choices.
Fun fact: The sequels to Dawn are Adulthood Rites (1988) and Imago (1989). In 2017, it was announced that Ava DuVernay will adapt Dawn for television, with director Victoria Mahoney and producer Charles D. King. This will be the first on-screen adaptation of Butler's writing.
***
JOSH GLENN'S *BEST ADVENTURES* LISTS: BEST 250 ADVENTURES OF THE 20TH CENTURY | 100 BEST OUGHTS ADVENTURES | 100 BEST RADIUM AGE (PROTO-)SCI-FI ADVENTURES | 100 BEST TEENS ADVENTURES | 100 BEST TWENTIES ADVENTURES | 100 BEST THIRTIES ADVENTURES | 75 BEST GOLDEN AGE SCI-FI ADVENTURES | 100 BEST FORTIES ADVENTURES | 100 BEST FIFTIES ADVENTURES | 100 BEST SIXTIES ADVENTURES | 75 BEST NEW WAVE SCI FI ADVENTURES | 100 BEST SEVENTIES ADVENTURES | 100 BEST EIGHTIES ADVENTURES | 75 BEST DIAMOND AGE SCI-FI ADVENTURES | 100 BEST NINETIES ADVENTURES (in progress) | 1994 | 1995 | 1996 | 1997 | 1998 | 1999 | 2000 | 2001 | 2002 | 2003 | NOTES ON 21st-CENTURY ADVENTURES.