Best 1987 Adventures (3)
By: Joshua Glenn
March 4, 2020
One in a series of 10 posts identifying Josh Glenn's favorite 1987 adventure novels.
*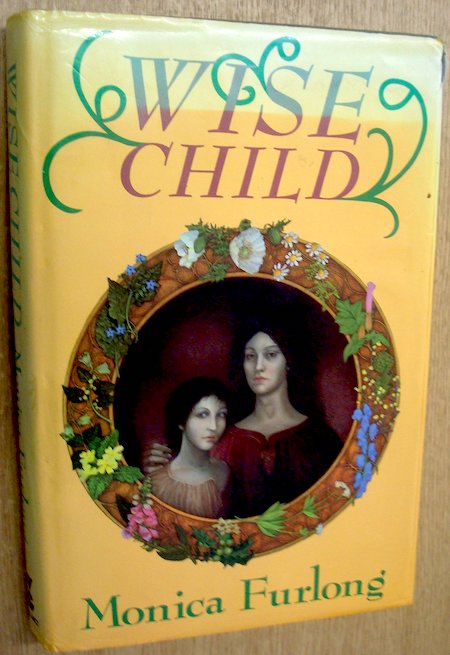 Monica Furlong's Doran fantasy adventure Wise Child.
In a remote Scottish village, a nine-year-old girl known as Wise Child — a snarky nickname — is taken in by Juniper, a healer and doran (Celtic sorceress) reputed to be in league with the devil, when her grandmother dies. Spoiled and lazy, proud and impetuous, Wise Child reluctantly learns to read, write, and pay close attention to — and behave in harmony with — the patterns of nature; it's a female, rural version of Captains Courageous. Juniper, who refuses to attend Mass, also educates her protégée about Scotland's old, pre-Christian religion. For the first half of the book, we're not certain if there's any magic in it, at all. However, when Maeve's mother, who turns out to be a wicked witch, reappears, Wise Child discovers the extent of her own supernatural powers. Meanwhile, the local priest decides it's time to get rid of Juniper; and the suspicious, fearful villagers don't disagree. Will Wise Child listen to her mother, the priest and villagers, to Juniper — or to her own, inner voice, which she's learning to trust? Some readers complain that Juniper is too good — kind, patient, wise, loving — to be true. Others love the domestic details about, say, the routine of growing, cutting, drying, and straining herbs; Juniper's most crucial lesson has to do with finding meaning in your labor. What decision will Wise Child make?
Fun facts: The Doran trilogy also includes Juniper (1990) and Colman (2004). Furlong also wrote nonfiction about, e.g., Thomas Merton, Thérèse of Lisieux, Alan Watts, the spiritual life of aboriginals, and medieval women mystics.
***
JOSH GLENN'S *BEST ADVENTURES* LISTS: BEST 250 ADVENTURES OF THE 20TH CENTURY | 100 BEST OUGHTS ADVENTURES | 100 BEST RADIUM AGE (PROTO-)SCI-FI ADVENTURES | 100 BEST TEENS ADVENTURES | 100 BEST TWENTIES ADVENTURES | 100 BEST THIRTIES ADVENTURES | 75 BEST GOLDEN AGE SCI-FI ADVENTURES | 100 BEST FORTIES ADVENTURES | 100 BEST FIFTIES ADVENTURES | 100 BEST SIXTIES ADVENTURES | 75 BEST NEW WAVE SCI FI ADVENTURES | 100 BEST SEVENTIES ADVENTURES | 100 BEST EIGHTIES ADVENTURES | 75 BEST DIAMOND AGE SCI-FI ADVENTURES | 100 BEST NINETIES ADVENTURES (in progress) | 1994 | 1995 | 1996 | 1997 | 1998 | 1999 | 2000 | 2001 | 2002 | 2003 | NOTES ON 21st-CENTURY ADVENTURES.