Best 1987 Adventures (1)
By: Joshua Glenn
March 2, 2020
One in a series of 10 posts identifying Josh Glenn's favorite 1987 adventure novels.
*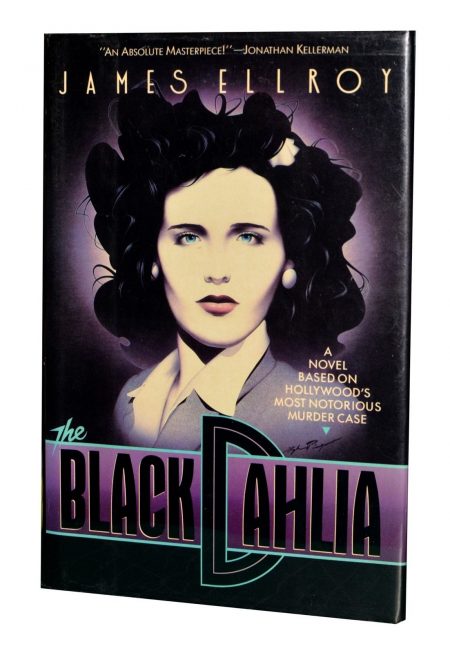 James Ellroy's L.A. Quartet crime adventure The Black Dahlia.
The (real-world) mutilation and murder of Elizabeth Short, known posthumously as the "Black Dahlia," in postwar Los Angeles, serves as the backdrop to Ellroy's seventh crime novel — the first installment in the author's L.A. Quartet. Fact (we begin with the so-called Zoot Suit Riots of 1943) and fiction are artfully blended in the story of detective Dwight "Bucky" Bleichert, who takes up the all-but-hopeless Black Dahlia case when his obsessed partner, Lee Blanchard, goes missing. The LAPD, we discover, is a corrupt police department in a corrupt city; among the less-than-upright characters we encounter here are Kay, a former gangster's moll; Madeleine, a promiscuous socialite who resembles Short (and with whom Bleichert becomes entangled); Madeleine's father Emmett, a sleazy property developer; a weirdo named Georgie; all of whom — or so it seems to Bleichert — are responsible, to some degree for Short's death. Short, meanwhile, emerges as a complex character, too: Her own promiscuity with servicemen seems to have had something to do with an early trauma. There's much more going on than what I've described here: boxing, prostitution, pornography, Hollywood, racism, payoffs, ambitious prosecutors, murder. It's an epic, one which earned Ellroy a well-deserved reputation as a serious writer.
Fun facts: Ellroy would later reveal that his own mother's rape and murder led him to become obsessed with the Black Dahlia case — which, in real life, was never solved. Subsequent titles in Ellroy's L.A. Quartet are: The Big Nowhere (1988), L.A. Confidential (1990), and White Jazz (1992). The Black Dahlia was adapted as a movie in 2006 film by Brian De Palma, starring Scarlett Johansson, Josh Hartnett and Aaron Eckhart. It flopped.
***
JOSH GLENN'S *BEST ADVENTURES* LISTS: BEST 250 ADVENTURES OF THE 20TH CENTURY | 100 BEST OUGHTS ADVENTURES | 100 BEST RADIUM AGE (PROTO-)SCI-FI ADVENTURES | 100 BEST TEENS ADVENTURES | 100 BEST TWENTIES ADVENTURES | 100 BEST THIRTIES ADVENTURES | 75 BEST GOLDEN AGE SCI-FI ADVENTURES | 100 BEST FORTIES ADVENTURES | 100 BEST FIFTIES ADVENTURES | 100 BEST SIXTIES ADVENTURES | 75 BEST NEW WAVE SCI FI ADVENTURES | 100 BEST SEVENTIES ADVENTURES | 100 BEST EIGHTIES ADVENTURES | 75 BEST DIAMOND AGE SCI-FI ADVENTURES | 100 BEST NINETIES ADVENTURES (in progress) | 1994 | 1995 | 1996 | 1997 | 1998 | 1999 | 2000 | 2001 | 2002 | 2003 | NOTES ON 21st-CENTURY ADVENTURES.