Best 1986 Adventures (6)
By: Joshua Glenn
February 17, 2020
One in a series of 10 posts identifying Josh Glenn's favorite 1986 adventure novels.
*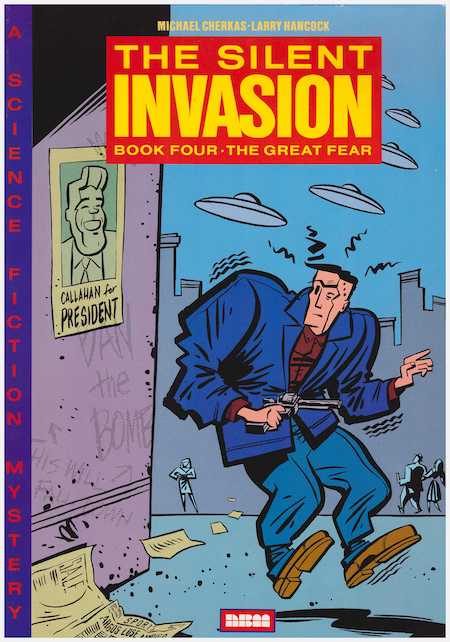 Larry Hancock and Michael Cherkas's sci-fi mystery comic The Silent Invasion (1986–1988).
This 12-issue series, written by Larry Hancock and drawn — in stylized black and white — by Michael Cherkas, begins in 1952. It's set in the fictional Union City. FBI agent Phil Housley is assigned to investigate the disappearance of private investigator Dick Mallett; dissolute but stubborn journalist Matt Sinkage, meanwhile, has become obsessed with UFOs after a close encounter. Sinkage's new neighbor, Ivan Kalashnikov, seems suspicious. The comic portrays the era as a time of conspircacy and paranoia; nobody knows who to trust. Also, we're never sure whether or not Sinkage is onto a real UFO story, or if he's deluded. When Kalashnikov's secretary bursts into his apartment, chased by threatening men, Sinkage takes her to his brother's place in the country — why? By the middle of the series, Sinkage has been accused of being a communist; he's moved to a small town; and he's discovered that his girlfriend isn't what she seemed. Phil Housley, now a private eye himself, shows up unexpectedly. And an old lady is hosting a UFO-centric community/cult on her farm property… what's going on? Things get really twisted, by the end.
Fun facts: Hancock and Cherkas would revisit 1950s America in Suburban Nightmares, a series of shorter stories.
***
JOSH GLENN'S *BEST ADVENTURES* LISTS: BEST 250 ADVENTURES OF THE 20TH CENTURY | 100 BEST OUGHTS ADVENTURES | 100 BEST RADIUM AGE (PROTO-)SCI-FI ADVENTURES | 100 BEST TEENS ADVENTURES | 100 BEST TWENTIES ADVENTURES | 100 BEST THIRTIES ADVENTURES | 75 BEST GOLDEN AGE SCI-FI ADVENTURES | 100 BEST FORTIES ADVENTURES | 100 BEST FIFTIES ADVENTURES | 100 BEST SIXTIES ADVENTURES | 75 BEST NEW WAVE SCI FI ADVENTURES | 100 BEST SEVENTIES ADVENTURES | 100 BEST EIGHTIES ADVENTURES | 75 BEST DIAMOND AGE SCI-FI ADVENTURES | 100 BEST NINETIES ADVENTURES (in progress) | 1994 | 1995 | 1996 | 1997 | 1998 | 1999 | 2000 | 2001 | 2002 | 2003 | NOTES ON 21st-CENTURY ADVENTURES.