Best 1986 Adventures (5)
By: Joshua Glenn
February 16, 2020
One in a series of 10 posts identifying Josh Glenn's favorite 1986 adventure novels.
*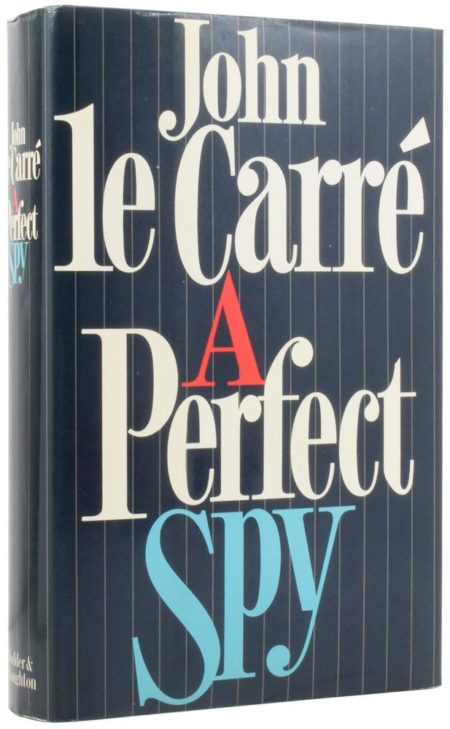 John le Carré's espionage adventure A Perfect Spy.
Magnus Pym, a debonair career officer of British Intelligence, disappears — along with important intel — after attending his father's funeral. As his mentor and friend Jack Brotherhood leads the search for him, it becomes apparent that Pym was a double agent — a spy for the Czechoslovak secret service. Through flashbacks, as well as through the missing spy's memoir, written to explain to his family and friends why he betrayed his country, we learn that Pym was a "perfect spy" because he never had an authentic persona. Under the influence of his father Rick, a charismatic but narcissistic con artist, Magnus learned to adapt to whatever context he found himself in. We meet Pym's friend, the Czech spy Axel, as well as various double agents and ex-lovers; but this is much more than an espionage story. In fact, it's a wry, partially autobiographical account of Le Carre's (David Cornwell's) own life, spent assisting his con artist father (Ronnie Cornwell) in postwr Britain, spying on Oxford college Communists for the MI5, and so forth. In a milieu in which everyone manipulated everyone else for strategic adventure, how does one develop something resembling a soul? This is the author's cri de couer. Some readers will complain that this isn't really a thriller; others, however, have described A Perfect Spy as "devastating."
Fun facts: Ronnie Cornwell has been described as an "epic con man of little education, immense charm, extravagant tastes, but no social values". An associate of the Kray twins, he masqueraded as a successful entrepreneur, made and lost several fortunes, and was twice imprisoned for fraud. Philip Roth has called A Perfect Spy "the best English novel since the war."
***
JOSH GLENN'S *BEST ADVENTURES* LISTS: BEST 250 ADVENTURES OF THE 20TH CENTURY | 100 BEST OUGHTS ADVENTURES | 100 BEST RADIUM AGE (PROTO-)SCI-FI ADVENTURES | 100 BEST TEENS ADVENTURES | 100 BEST TWENTIES ADVENTURES | 100 BEST THIRTIES ADVENTURES | 75 BEST GOLDEN AGE SCI-FI ADVENTURES | 100 BEST FORTIES ADVENTURES | 100 BEST FIFTIES ADVENTURES | 100 BEST SIXTIES ADVENTURES | 75 BEST NEW WAVE SCI FI ADVENTURES | 100 BEST SEVENTIES ADVENTURES | 100 BEST EIGHTIES ADVENTURES | 75 BEST DIAMOND AGE SCI-FI ADVENTURES | 100 BEST NINETIES ADVENTURES (in progress) | 1994 | 1995 | 1996 | 1997 | 1998 | 1999 | 2000 | 2001 | 2002 | 2003 | NOTES ON 21st-CENTURY ADVENTURES.