Best 1986 Adventures (4)
By: Joshua Glenn
February 15, 2020
One in a series of 10 posts identifying Josh Glenn's favorite 1986 adventure novels.
*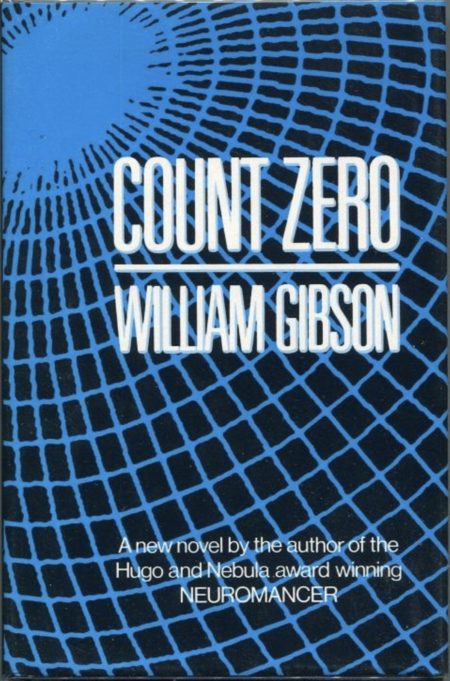 William Gibson's Sprawl adventure Count Zero (1986).
Several years after the events of Gibson's debut novel, Neuromancer, Bobby Newmark, a small-time computer hacker who calls himself "Count Zero," uses an unknown piece of software to infiltrate a closely guarded data defense network. Bobby is rescued from certain death by an angelic being (who turns out to be the young daughter of Christopher Mitchell, a brilliant researcher and bio-hacker); and after a brutal mugging, he is taken in by a group fascinated by what appear to be voodoo gods suddenly proliferating in the Matrix — the synergistic linked computer database that encompasses all information on Earth. Meanwhile, Turner, a corporate mercenary soldier, gets caught up in a violent battle for control — by the multinational corporations Maas Biolabs and Hosaka — over Mitchell's biochip technology, which is superior to silicon microprocessors. (We'll discover that Mitchell was led to develop the biochip by the "voodoo gods" of the Matrix; which reminds me of Philip K. Dick's Radio Free Albemuth.) Turner ends up on the run with Mitchell's daughter, who carries with her the "biosoft" secret… which not only Maas Biolabs and Hosaka, but an immortality-seeking multibillionaire will stop at nothing to secure. The final showdown, between the various forces at odds in this collaged, meta-textual, action-packed novel, takes place in the Sprawl, a Judge Dredd-like urban environment that extends along much of America's East coast.
Fun facts: Count Zero was serialized by Isaac Asimov's Science Fiction Magazine in 1986, and published in book form the same year. The third and final installment in the Sprawl triology is Mona Lisa Overdrive (1988).
***
JOSH GLENN'S *BEST ADVENTURES* LISTS: BEST 250 ADVENTURES OF THE 20TH CENTURY | 100 BEST OUGHTS ADVENTURES | 100 BEST RADIUM AGE (PROTO-)SCI-FI ADVENTURES | 100 BEST TEENS ADVENTURES | 100 BEST TWENTIES ADVENTURES | 100 BEST THIRTIES ADVENTURES | 75 BEST GOLDEN AGE SCI-FI ADVENTURES | 100 BEST FORTIES ADVENTURES | 100 BEST FIFTIES ADVENTURES | 100 BEST SIXTIES ADVENTURES | 75 BEST NEW WAVE SCI FI ADVENTURES | 100 BEST SEVENTIES ADVENTURES | 100 BEST EIGHTIES ADVENTURES | 75 BEST DIAMOND AGE SCI-FI ADVENTURES | 100 BEST NINETIES ADVENTURES (in progress) | 1994 | 1995 | 1996 | 1997 | 1998 | 1999 | 2000 | 2001 | 2002 | 2003 | NOTES ON 21st-CENTURY ADVENTURES.