Best 1986 Adventures (1)
By: Joshua Glenn
February 8, 2020
One in a series of 10 posts identifying Josh Glenn's favorite 1986 adventure novels.
*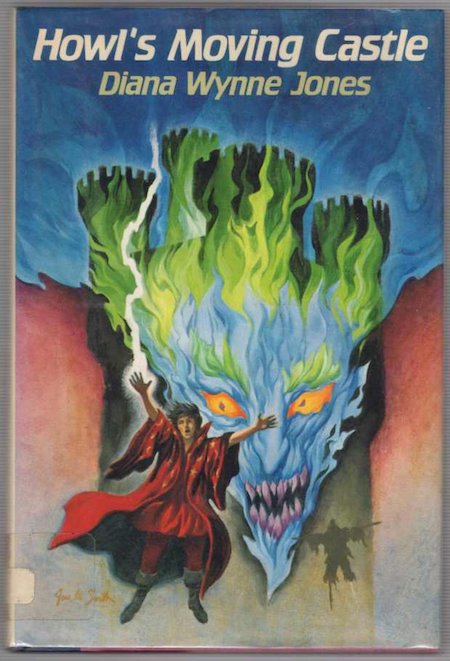 Diana Wynne Jones's Howl's Moving Castle children's fantasy adventure Howl's Moving Castle.
Diana Wynne Jones is the missing link between E. Nesbit and J.K. Rowling. That is to say, she's brilliant at depicting a (British) world where magic intersects with the mundane in unexpected, amusing ways. In this story, a romance — between a spoiled, pretty-boy wizard and a feisty nonagenarian — she also channels Jane Austen. When teenaged Sophie, a timid small-town girl, is transformed by a curse into an elderly crone, it's liberating: She leaves her dead-end job, not to mention the boring village of Market Chipping, and begins to stick up for herself… for example, by appointing herself housekeeper of the Wizard Howl's castle. Howl is handsome, talented, lascivious and lazy, though ultimately kind-hearted; the door to his castle is a portal opening into different locations in the magical kingdom of Ingary… as well as into his hometown, in non-magical Wales. Sophie strikes a bargain with Howl's fire-demon, Calcifer — who promises to return her to her original form, if she can break the demon's contract with Howl. The contract's main clause is a Nesbit-esque mystery… something that Sophie, who is meanwhile falling in love with the vain, impossible Howl, must puzzle out on her own. When a witch kidnaps a princeling, Sophie is lured into the witch's trap… and the action literally heats up.
Fun facts: Sequels to this novel include Castle in the Air (1990) and House of Many Ways (2008). In 2004, Hayao Miyazaki loosely adapted Howl's Moving Castle as a terrific Japanese-language animated movie. One of the most successful Japanese films in history, there are those who prefer it to Wynne Jones's book.
***
JOSH GLENN'S *BEST ADVENTURES* LISTS: BEST 250 ADVENTURES OF THE 20TH CENTURY | 100 BEST OUGHTS ADVENTURES | 100 BEST RADIUM AGE (PROTO-)SCI-FI ADVENTURES | 100 BEST TEENS ADVENTURES | 100 BEST TWENTIES ADVENTURES | 100 BEST THIRTIES ADVENTURES | 75 BEST GOLDEN AGE SCI-FI ADVENTURES | 100 BEST FORTIES ADVENTURES | 100 BEST FIFTIES ADVENTURES | 100 BEST SIXTIES ADVENTURES | 75 BEST NEW WAVE SCI FI ADVENTURES | 100 BEST SEVENTIES ADVENTURES | 100 BEST EIGHTIES ADVENTURES | 75 BEST DIAMOND AGE SCI-FI ADVENTURES | 100 BEST NINETIES ADVENTURES (in progress) | 1994 | 1995 | 1996 | 1997 | 1998 | 1999 | 2000 | 2001 | 2002 | 2003 | NOTES ON 21st-CENTURY ADVENTURES.