Best 1985 Adventures (9)
By: Joshua Glenn
January 31, 2020
One in a series of 10 posts identifying Josh Glenn's favorite 1985 adventure novels.
*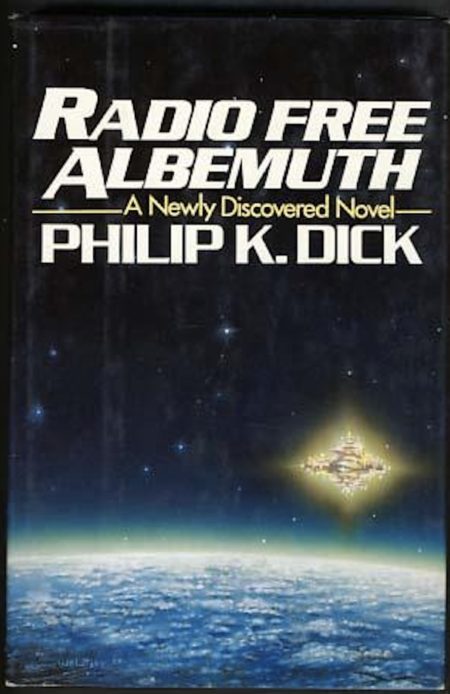 Philip K. Dick's Radio Free Albemuth (1985).
Unlike Dick's many stories set in a dystopian future, this one is set in a dystopian present — one in which an opportunistic incompetent, the mouthpiece for a crackpot conspiracy theory and front-man of a right-wing populist movement, becomes president of the United States with the secret support of the KGB and the FBI. ("Why should disparate groups such as the Soviet Union and the U.S. intelligence community back the same man? … They both like figureheads who are corrupt. So they can govern from behind.") As he wages war against "Aramchek," an imaginary subversive organization, President Fremont abrogates American civil liberties; this leads to the emergence of a resistance movement… organized through transmissions from a superintelligent, extraterrestrial being or network known as VALIS. (See Dick's 1981 novel VALIS.) Nicholas Brady, a record store employee, is the recipient of these transmissions, and a kind of subliminal organizer of the resistance; his experiences are a lightly fictionalized version of Dick's own infamous "2–3–74" gnostic freak-out. As Brady becomes a successful record producer (encoding anti-Fremont messages into folk songs), his best friend, science-fiction writer Philip K. Dick, struggles in vain to stay out of the clutches of the right-wing populists. Brady's ultimate song-message is written by a woman named Aramchek; it is recorded by a band called, yes, Alexander Hamilton.
Fun facts: Drafted in 1976, published posthumously despite not being finalized. The novel was adapted by John Alan Simon in 2010; the film stars Jonathan Scarfe as Brady, Shea Whigham as Dick, and Alanis Morissette as Sylvia Aramchek.
***
JOSH GLENN'S *BEST ADVENTURES* LISTS: BEST 250 ADVENTURES OF THE 20TH CENTURY | 100 BEST OUGHTS ADVENTURES | 100 BEST RADIUM AGE (PROTO-)SCI-FI ADVENTURES | 100 BEST TEENS ADVENTURES | 100 BEST TWENTIES ADVENTURES | 100 BEST THIRTIES ADVENTURES | 75 BEST GOLDEN AGE SCI-FI ADVENTURES | 100 BEST FORTIES ADVENTURES | 100 BEST FIFTIES ADVENTURES | 100 BEST SIXTIES ADVENTURES | 75 BEST NEW WAVE SCI FI ADVENTURES | 100 BEST SEVENTIES ADVENTURES | 100 BEST EIGHTIES ADVENTURES | 75 BEST DIAMOND AGE SCI-FI ADVENTURES | 100 BEST NINETIES ADVENTURES (in progress) | 1994 | 1995 | 1996 | 1997 | 1998 | 1999 | 2000 | 2001 | 2002 | 2003 | NOTES ON 21st-CENTURY ADVENTURES.