Best 1985 Adventures (8)
By: Joshua Glenn
January 30, 2020
One in a series of 10 posts identifying Josh Glenn's favorite 1985 adventure novels.
*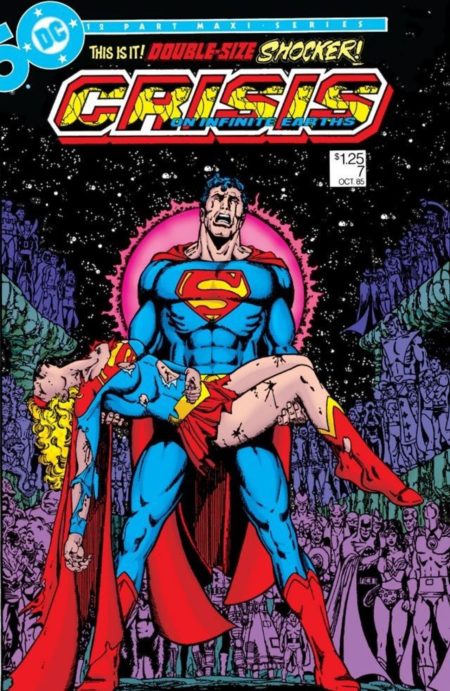 Marv Wolfman and George Pérez's Crisis on Infinite Earths (DC Comics, serialized 1985–1986).
Since 1963, DC has frequently used the word "Crisis" to describe important crossovers within its Multiverse — that is to say, within the unwieldy agglomeration of "Earths" spawned by writers who, over the course of half a century at that point, had made only cursory attempts to align their story-lines. After two years of research, writer Marv Wolfman and artist George Pérez, whose 1980 New Teen Titans series was a hit, produced a 12-issue limited series with the ambitious goal of unifying DC's universe. The series — which concerns the destruction of the Multiverse's many Earths, by the Anti-Monitor, as well as Brainiac's efforts to conquer the remaining Earths — is infamous for its death count. Wolfman killed off DC icons Kara Zor-El (the original Supergirl), Barry Allen (the Flash of the Silver Age), and many other heroes and villains. There is time travel; there is a portal between the positive and antimatter universes; Superman and Darkseid team up. The series concludes with the creation of a single, unified Earth. DC's history would henceforth be divided into "Pre-Crisis" and "Post-Crisis."
Fun facts: Followed by the stories Infinite Crisis (2005–2006) and Final Crisis (2008–2009), Crisis on Infinite Earths popularized the idea of a large-scale comic book crossover. The DC Universe has never been the same.
***
JOSH GLENN'S *BEST ADVENTURES* LISTS: BEST 250 ADVENTURES OF THE 20TH CENTURY | 100 BEST OUGHTS ADVENTURES | 100 BEST RADIUM AGE (PROTO-)SCI-FI ADVENTURES | 100 BEST TEENS ADVENTURES | 100 BEST TWENTIES ADVENTURES | 100 BEST THIRTIES ADVENTURES | 75 BEST GOLDEN AGE SCI-FI ADVENTURES | 100 BEST FORTIES ADVENTURES | 100 BEST FIFTIES ADVENTURES | 100 BEST SIXTIES ADVENTURES | 75 BEST NEW WAVE SCI FI ADVENTURES | 100 BEST SEVENTIES ADVENTURES | 100 BEST EIGHTIES ADVENTURES | 75 BEST DIAMOND AGE SCI-FI ADVENTURES | 100 BEST NINETIES ADVENTURES (in progress) | 1994 | 1995 | 1996 | 1997 | 1998 | 1999 | 2000 | 2001 | 2002 | 2003 | NOTES ON 21st-CENTURY ADVENTURES.