Best 1985 Adventures (6)
By: Joshua Glenn
January 28, 2020
One in a series of 10 posts identifying Josh Glenn's favorite 1985 adventure novels.
*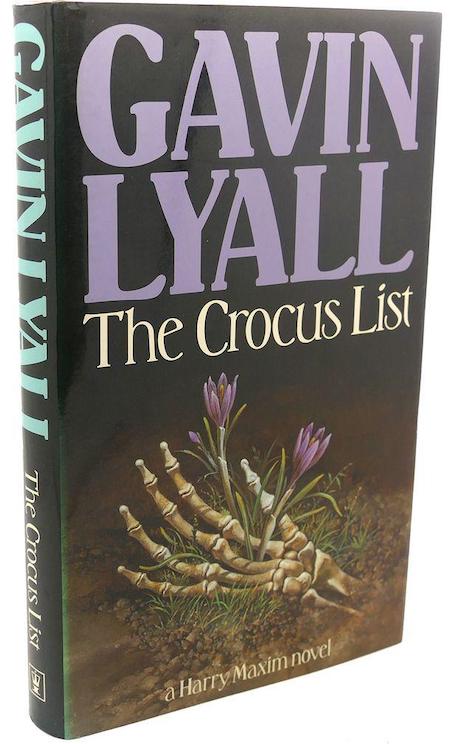 Gavin Lyall's political thriller The Crocus List (1985).
In his third outing, Major Harry Maxim — a former SAS man skilled in covert reconnaissance, counter-terrorism, and direct action — is assigned to head up a security detail at Westminster Abbey for a royal funeral. When an assassin fires on the visiting US president, killing a low-ranking British government minister instead, Maxim is the only witness as the man falls on a grenade. The gun, the grenade, papers found on the dead man'd person point to the KGB; but, since Britain is about to hold unilateral talks with the Russians over Berlin, why would Moscow order such a hit? Maxim and his friend and mentor at Defence, George Harbinger, investigate. The trail leads to: an ex-WWII British Intelligence officer, now retired in Gloucestershire, who is killed; adilapidated boatyard on the Thames; the British consulate in Washington, DC; a small town in the American midwest; and finally to Berlin. MI5 liaison officer Agnes Algar, whom we met in The Secret Servant (1980) and The Conduct of Major Maxim (1982), proves an invaluable ally in the escapade. Who is attempting to sabotage the prospects of peace in Europe — the KGB? the CIA? Or a clandestine group closer to home?
Fun facts: If I haven't included any of Lyall's popular aviation thrillers, e.g., The Wrong Side of the Sky (1961), The Most Dangerous Game (1963), and Judas Country (1975), or his international crime thrillers, e.g., Midnight Plus One (1965), Venus With Pistol (1969), on my Best Adventures lists, before now, it's not because I don't enjoy them — I do! Alas, they've been crowded out by thrillers from the likes of John Le Carré, Len Deighton, Lionel Davidson, Victor Canning, Francis Clifford, Anthony Price, Adam Hall, Joseph Hone, et al. The BBC filmed The Secret Servant in 1984, with Charles Dance as Maxim.
***
JOSH GLENN'S *BEST ADVENTURES* LISTS: BEST 250 ADVENTURES OF THE 20TH CENTURY | 100 BEST OUGHTS ADVENTURES | 100 BEST RADIUM AGE (PROTO-)SCI-FI ADVENTURES | 100 BEST TEENS ADVENTURES | 100 BEST TWENTIES ADVENTURES | 100 BEST THIRTIES ADVENTURES | 75 BEST GOLDEN AGE SCI-FI ADVENTURES | 100 BEST FORTIES ADVENTURES | 100 BEST FIFTIES ADVENTURES | 100 BEST SIXTIES ADVENTURES | 75 BEST NEW WAVE SCI FI ADVENTURES | 100 BEST SEVENTIES ADVENTURES | 100 BEST EIGHTIES ADVENTURES | 75 BEST DIAMOND AGE SCI-FI ADVENTURES | 100 BEST NINETIES ADVENTURES (in progress) | 1994 | 1995 | 1996 | 1997 | 1998 | 1999 | 2000 | 2001 | 2002 | 2003 | NOTES ON 21st-CENTURY ADVENTURES.