Best 1985 Adventures (5)
By: Joshua Glenn
January 27, 2020
One in a series of 10 posts identifying Josh Glenn's favorite 1985 adventure novels.
*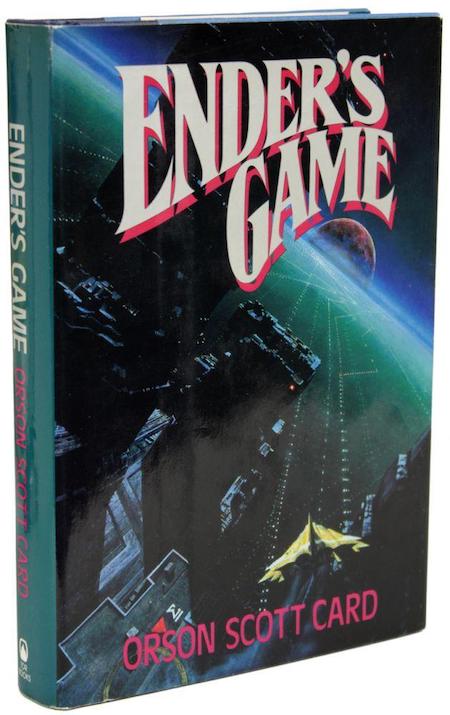 Orson Scott Card's Ender's Game (1985).
I found this book troubling, when I first read it — and that's before I learned that the author is a right-wing homophobe. But it's so influential that I must include it in this series! Card's premise, that children playing videogames and laser tag in an orbiting battle school are training to fight alien invaders, seems designed to appeal to gamers whose grasp on reality is already a tenuous one. And the depiction of the protagonist, Ender Wiggin, as a genius warrior-child who has had the empathy trained out of him by adults looking for a savior is also disturbing: If you enjoy reading about kids who hospitalize and kill other kids, then this is the book for you. There's also a sexist suggestion that females are inherently too empathetic to become true warriors; however, there are strong female characters. All of this having been said, it is thrilling to watch Ender master the tactics of his school's antigravity war games — although it feels at times, like you're watching somebody else play a videogame. There's a subplot about Ender's sister and brother, whose online screeds become incredibly influential: Again, one gets the sense that the author is pandering to Internet trolls with delusions of grandeur. The final chapter is, however, exciting — even moving. If you like Starship Troopers and The Forever War, then you'll like this one. But don't let your kids read it.
Fun facts: Based on a 1977 story published in Analog, Ender's Game won the Nebula and the Hugo; and its sequel, Speaker for the Dead, did as well. The novel has sold millions of copies, been translated into 25+ languages, and was voted onto both The Modern Library's "100 Best Novels: The Reader's List" and the American Library Association's "100 Best Books for Teens" list. A film adaptation starring Asa Butterfield was released in 2013.
***
JOSH GLENN'S *BEST ADVENTURES* LISTS: BEST 250 ADVENTURES OF THE 20TH CENTURY | 100 BEST OUGHTS ADVENTURES | 100 BEST RADIUM AGE (PROTO-)SCI-FI ADVENTURES | 100 BEST TEENS ADVENTURES | 100 BEST TWENTIES ADVENTURES | 100 BEST THIRTIES ADVENTURES | 75 BEST GOLDEN AGE SCI-FI ADVENTURES | 100 BEST FORTIES ADVENTURES | 100 BEST FIFTIES ADVENTURES | 100 BEST SIXTIES ADVENTURES | 75 BEST NEW WAVE SCI FI ADVENTURES | 100 BEST SEVENTIES ADVENTURES | 100 BEST EIGHTIES ADVENTURES | 75 BEST DIAMOND AGE SCI-FI ADVENTURES | 100 BEST NINETIES ADVENTURES (in progress) | 1994 | 1995 | 1996 | 1997 | 1998 | 1999 | 2000 | 2001 | 2002 | 2003 | NOTES ON 21st-CENTURY ADVENTURES.