Best 1985 Adventures (4)
By: Joshua Glenn
January 26, 2020
One in a series of 10 posts identifying Josh Glenn's favorite 1985 adventure novels.
*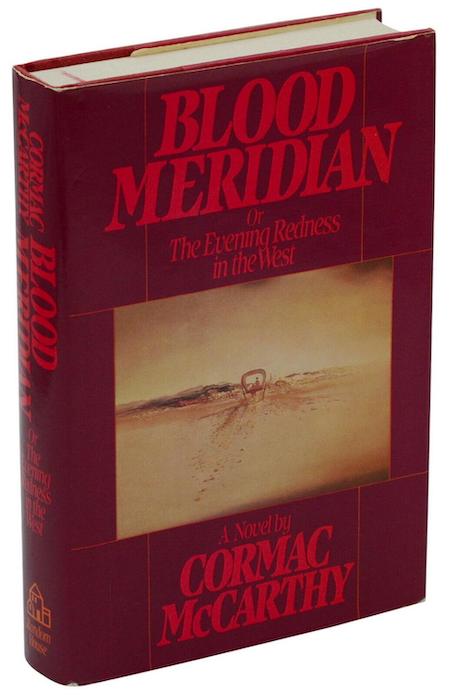 Cormac McCarthy's western adventure Blood Meridian or the Evening Redness in the West.
McCarthy's first Western — his previous four novels were in the Southern Gothic genre — is an extraordinary piece of writing. A teenager described only as "the kid," a runaway from Tennessee, winds up in southeastern Texas in the late 1840s. There, our protagonist encounters Judge Holden — a physically massive, highly educated, completely bald sociopath who eventually becomes the novel's antagonist. (This reader is strongly reminded of Marlo Brando's turn as bounty hunter Robert E. Lee Clayton, in the now-forgotten 1976 Western movie The Missouri Breaks.) The kid joins a party of Army irregulars on a mission to claim Mexican land; their party is wiped out by Comanche warriors. Arrested in Chihuahua, the kid — along with a cellmate named Toadvine — join a scalp-hunting operation, financed by Mexican authorities and led by a violent owlhoot named Glanton. Glanton's gang is paid by the scalp, so soon enough they begin killing peaceful agrarian Indians, unprotected Mexican villagers, even American soldiers. Judge Holden, a member of Glanton's gang, becomes a kind of mythic figure — all-knowing, omnicompetent, evil. There are many more killings, and a flight through the Arizona desert during which the kid and a fellow gang member are pursued relentlessly by the judge. Some years later, the kid — now described as "the man" — encounters the judge one final time.
Fun facts: Blood Meridian was initially met with a lukewarm reception by critics; but it has since been described as McCarthy's masterpiece. Harold Bloom has compared the book favorably with Moby-Dick; and it has appeared on numerous lists of the best 20th-century American novels.
***
JOSH GLENN'S *BEST ADVENTURES* LISTS: BEST 250 ADVENTURES OF THE 20TH CENTURY | 100 BEST OUGHTS ADVENTURES | 100 BEST RADIUM AGE (PROTO-)SCI-FI ADVENTURES | 100 BEST TEENS ADVENTURES | 100 BEST TWENTIES ADVENTURES | 100 BEST THIRTIES ADVENTURES | 75 BEST GOLDEN AGE SCI-FI ADVENTURES | 100 BEST FORTIES ADVENTURES | 100 BEST FIFTIES ADVENTURES | 100 BEST SIXTIES ADVENTURES | 75 BEST NEW WAVE SCI FI ADVENTURES | 100 BEST SEVENTIES ADVENTURES | 100 BEST EIGHTIES ADVENTURES | 75 BEST DIAMOND AGE SCI-FI ADVENTURES | 100 BEST NINETIES ADVENTURES (in progress) | 1994 | 1995 | 1996 | 1997 | 1998 | 1999 | 2000 | 2001 | 2002 | 2003 | NOTES ON 21st-CENTURY ADVENTURES.