Best 1984 Adventures (9)
By: Joshua Glenn
January 11, 2020
One in a series of 10 posts identifying Josh Glenn's favorite 1984 adventure novels.
*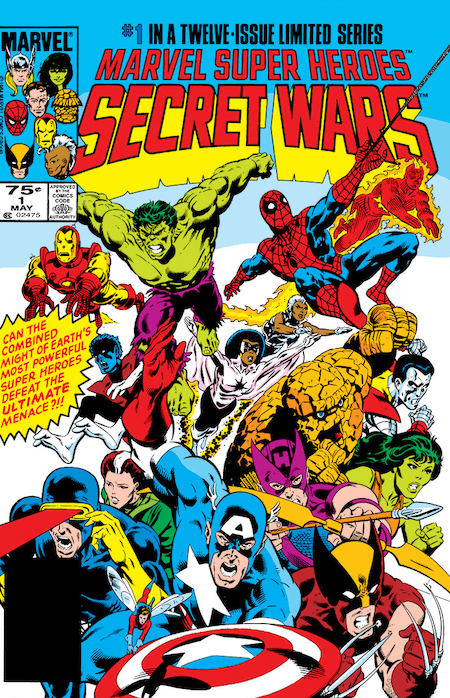 Jim Shooter, Mike Zeck, and Bob Layton's Marvel Super Heroes Secret Wars (Marvel Comics, serialized 1984–1985).
Secret Wars is a twelve-issue crossover limited series, written by Marvel Comics' editor-in-chief Jim Shooter, with art by Mike Zeck and Bob Layton. Fascinated by the presence of super-powered beings on Earth, a cosmic entity known as the Beyonder kidnaps members of the Avengers (including Captain America, Iron Man, She-Hulk, and Thor), the Fantastic Four (Human Torch, Mister Fantastic, The Thing), and the X-Men (including Nightcrawler, Rogue, Storm, Wolverine), as well as Spider-Man, Spider-Woman, and the Hulk, and teleports them to "Battleworld," a purpose-built arena stocked with alien weapons and technology. There, he pits the superheroes against Doctor Doom, Doctor Octopus, the Enchantress, Kang the Conqueror, Klaw, the Lizard, Molecule Man, Ultron, and other supervillains — including the newly minted villainesses Titania and Volcana. A thrilling, goofy battle royale ensued, with sub-plots: Spider-Man finds and wears the black costume for the first time; Colossus breaks up with Kitty Pryde; etc. The scenario, which is reminiscent of Marion Zimmer Bradley's now-obscure 1974 sci-fi novel Hunters of the Red Moon, is considered one of the first "Event Comics" ever, and is considered second only to DC Comics' Crisis on Infinite Earths event in terms of its significance.
Fun facts: Aware that Mattel was interested in licensing Marvel's characters, Jim Shooter proposed staging the Secret Wars event as a platform around which Mattel could build a theme. It was Mattel — which would release three waves of action figures, vehicles, and accessories in the Secret Wars toyline from 1984 to 1985 — who suggested the word "secret" be included in the title.
***
JOSH GLENN'S *BEST ADVENTURES* LISTS: BEST 250 ADVENTURES OF THE 20TH CENTURY | 100 BEST OUGHTS ADVENTURES | 100 BEST RADIUM AGE (PROTO-)SCI-FI ADVENTURES | 100 BEST TEENS ADVENTURES | 100 BEST TWENTIES ADVENTURES | 100 BEST THIRTIES ADVENTURES | 75 BEST GOLDEN AGE SCI-FI ADVENTURES | 100 BEST FORTIES ADVENTURES | 100 BEST FIFTIES ADVENTURES | 100 BEST SIXTIES ADVENTURES | 75 BEST NEW WAVE SCI FI ADVENTURES | 100 BEST SEVENTIES ADVENTURES | 100 BEST EIGHTIES ADVENTURES | 75 BEST DIAMOND AGE SCI-FI ADVENTURES | 100 BEST NINETIES ADVENTURES (in progress) | 1994 | 1995 | 1996 | 1997 | 1998 | 1999 | 2000 | 2001 | 2002 | 2003 | NOTES ON 21st-CENTURY ADVENTURES.